So one of the things my cousin Wesley has raved to me about is eating at State Bird Provision. He is a chef, so that is one of his favorite place to eat. So I made reservations to eat there one month in advance.
---
It was initially suppose to be Alan and Mindy, because he took the reservation. What happened was that I was hanging out with Chosen and Alan 20 days earlier, and during that night I went, did you want to go to state bird. I had 2 spots and for some reason, Chosen and Alan ended up fighting for it. Mostly because Alan went "I'm going". Then Chosen went "you just took the invite from me". Then they tried to give it to each other so they wouldn't feel bad. It ended up going to Alan, however, he had to back out this week. Thank goodness to Kelvin and Susanna, they were able to come with us.
Our reservations were at 9:30. It was a little rainy when we got to SF around 8:00. So we ended up spending time in Japantown. We ended up Pika Pika store, where you take pictures and edit it so it looks all japanese style. I usually don't go there too much, because I have taken other dates there before Sherri. So I get kind of bored of that place.
The weird things is that all the machines look really similar now, well I think it because they don't have different props, like they use to have one with monkey bars. Now all the machines just have different type of style for picture. It also is pretty expensive to the point where they don't have you put coins in the machine (because 12 dollars worth of quarters will fill up the machines so fast). So you just pay dollars to the person at front and they override the system on.
It was really funny getting all the poses, and then editing it. I always enjoy that part where our lips and eyes are animated. Kelvin and I had really good girlie poses.
So we end up at State bird, and end up buying and trying everything. Hahahahah, it was pretty pricey, but worth it.
Sherri looking at the drink menu.
Their kitchen was pretty fancy looking, with all the pots and pans everywhere.
More pictures of the room.
Here is some of the dishes, the biscuit with duck liver was really good on the far right, the persimmons was pretty tasty too.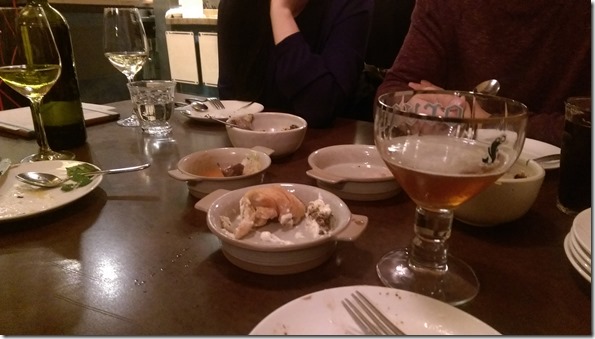 Here is the garlic cheese bread and my beer.
Overall, I really loved the place, I would say I like 90% of the food they served. It is like a mad scientist is cooking me food. They come up with some really good combos, and I ended up really enjoying it all.