Yesterday was the 2nd half of our finland layover trip. I have really bad jet lag, I can only sleep 2-3 hours at a time, and then I wake up. We ended up in a random expensive hotel apartment that had a smelly bathroom, I think there is an overflow water drain that is connected to some place down the line that stinks. The place gave us two twin beds, and Sherri and I slept on one of them together.
Then the morning comes, and it is an overcast Finnish day (think of an overcast Seattle day) with a light drizzle.
One of the most interesting thing I noticed was that the people in Finland really love coffee, however they really like to eat their breakfasts cold. I looked around and all the cafes only had cold sandwiches, and the croissants and food were all cold. Sherri noticed that no one really smiled or seemed really friendly in their conversation. The only lady that really smiled at us was one girl working in the coffee shop, we joked it was because she was one of the only few Finnish people with dark hair, so she must have been excited to see dark hair people. ? But I think it might be culture, Because the people working in the museum's seem to be more friendly.
Enjoying our colder breakfast reindeer in mayo wrap, and I had this traditional Finnish pastry, which had potatoes inside with an egg on top (cold pastry). I wanted to ask them to warm it up, but I did not see a microwave.
We then would down our time in Finland by going to the only thing that opened early 10:00am, it seems a lot of food and visitor attractions open up at 11am. So we ended up at the Ateneum, which is an art museum mostly devoted to Finnish art from the early 1800's to the present. The building is so lovely, so I tried to be a good Instagram husband and take pictures of Sherri, however, my pictures of her vary from 50% to 100% of what she wants, and I think most of my pictures are in the 60-70% expectation level. (Which means it will be trashed) I do feel sad that I took a bad picture, and I feel like I take good pictures at least a little more than what Sherri thinks I'm doing. I think it is part of the style in art and what we find artistic. I think Sherri is into everything has to look good, and also interesting. I have a little more leeway, in that you will get a good idea of what we saw, and I will try to make it artistic, but I want to capture more of the location.
There were my tries at picture taking, these are from my phone, the one on her cell phone is better.
This was from the more modern section, I like the 1950's comic style. It reminds me a lot of the style that magician posters have.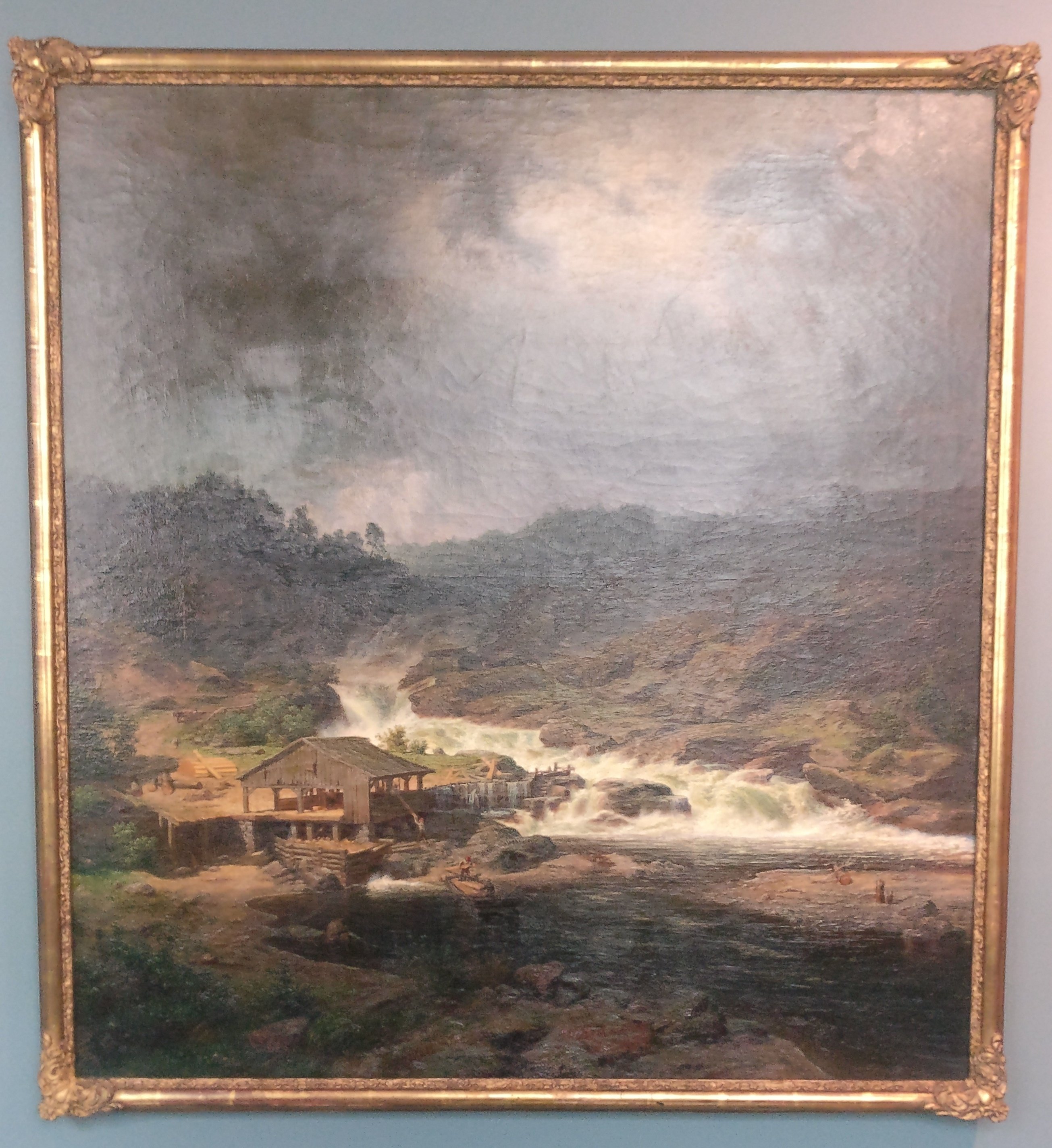 This is my favorite landscape painting. I don't think you can really see it, but I love how they oil painted on the people. I don't know what it is but the mind is really good at seeing essentially 3 colors on top of 3 shapes and saying that it is the shape of a human.
The above is the most famous Finnish painting, two birds fighting each other.
Then it was time to take the metro back to the airport. I think I only learned 1 Finnish word, and it was the word airport. And our metro cards work this time, but I do start to wonder do people actually pay for their tickets.
We take our 3 hour flight to Santorini and arrive at 7:15pm. They have a ridiculously small airport, it is the size of the inner Mongolia airport I used when I was in China. Except the difference was this airport had flights arriving every 30 minutes, so a lot of people coming, and they had one baggage claim area. The china one was exactly the same thing except that there were only 4 passengers getting off the plane, so the luggage claim person just manual turned on switch outside, then puts the $ luggages onto the carousal, then walks inside 15 seconds later and turns off the carousel once the luggage reaches us standing in the middle.
The first mistake I made was that I did not bring my driver's license. I totally blanked on needing the license, because it slipped my mind I was going to be renting a car. I think it was because I thought I only needed my ID, which is my passport. I think it was just one of those things where we have travelled 3 times this year and the last place we went to, I ended up just ubering. But it could also be a blessing in disguise, because the roads here are ridiculously hard to drive, and everyone drives as if the signs are just suggestions. The nice thing was that the person I was renting the car from felt bad and took us to our hotel room. So essentially I paid for a really expensive can ride. But he did drive us through a pretty little town.
We ended up in the village of perissa,which is on the southeast side. It is well known for it's beaches, they had a red, black, and white sand beaches.
Then we went to have dinner at 10 pm, I forget how late Greek people eat dinner. We ate dinner just when the party was starting. We ended up at this place that has a live music and dancing on Sat, starting from 10pm.
Here is a place at on the table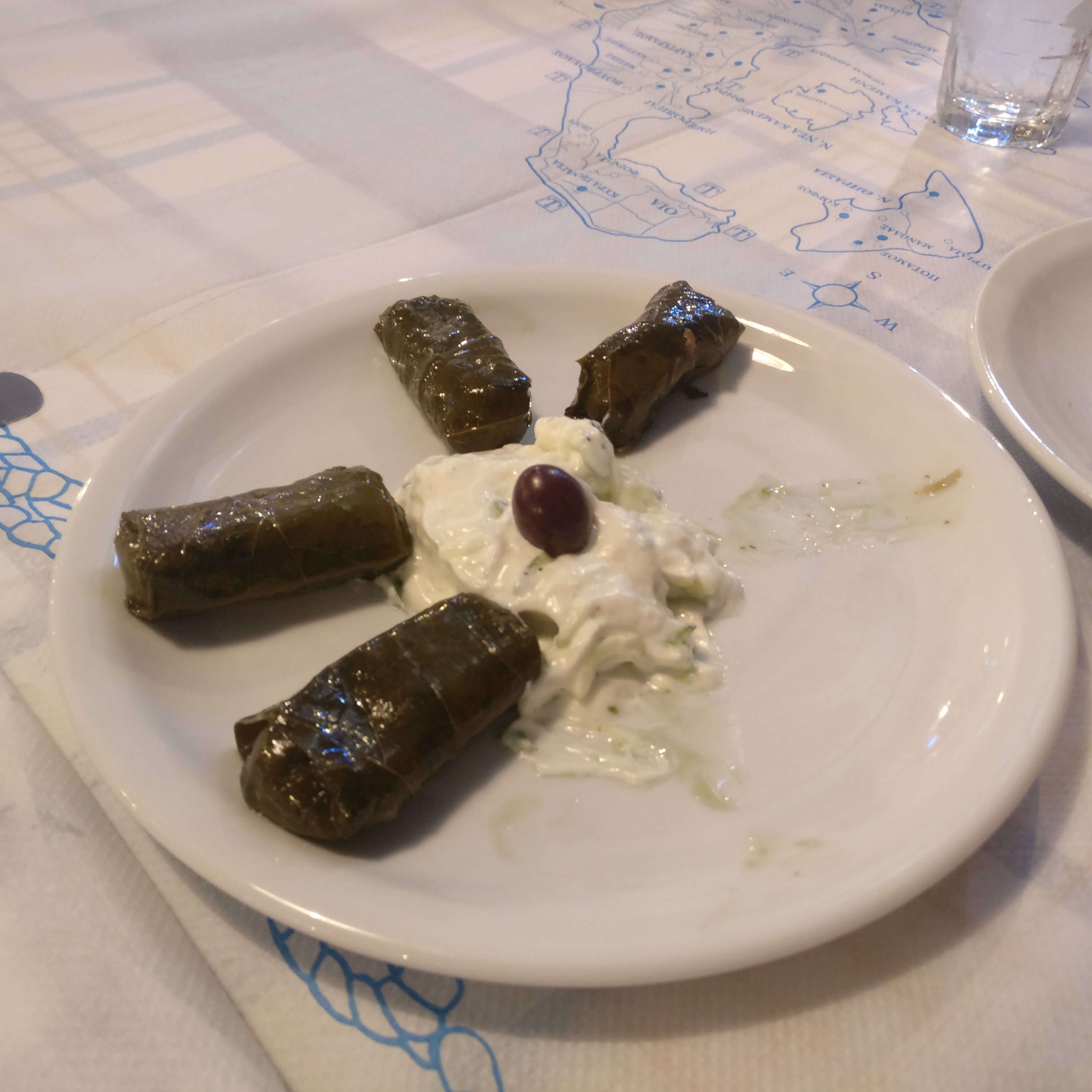 We ordered this appetizer, it is Vegetables wrapped in a leaf. I had meatballs, and Sherri had a lamb meal.
The best part of the night was the music and dancing. They made us all chant oppa. And near the end of the night they did the fire dance and people threw these clay plates down.
All the houses and places near our hotel room were lit up, and made it look so inviting.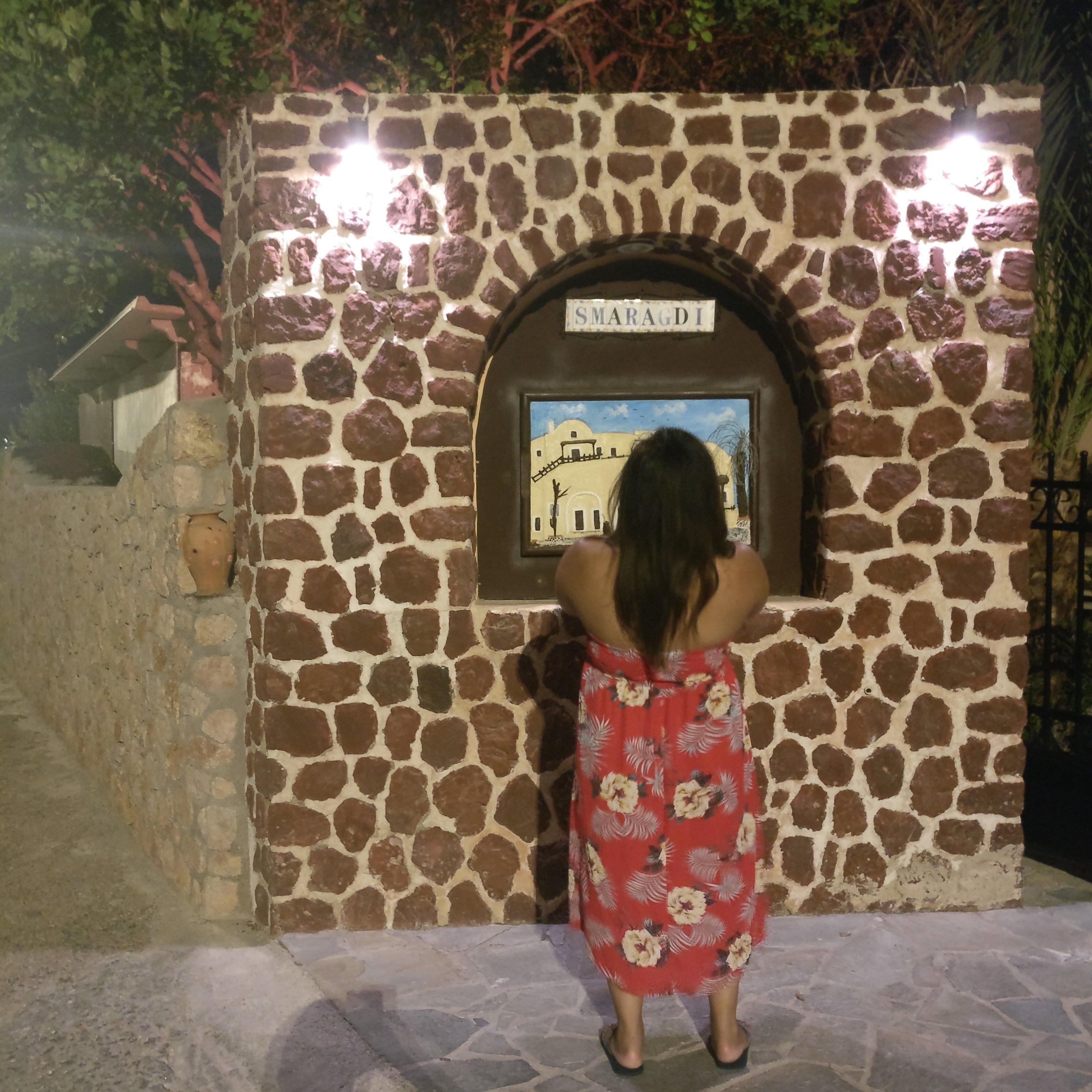 So that was our first night in the hotel. It was a really nice little place.
Overall, Sherri and I were able to really enjoy the day, we did have some disagreement but I think that is just because we are still a young couple learning to love each other more.