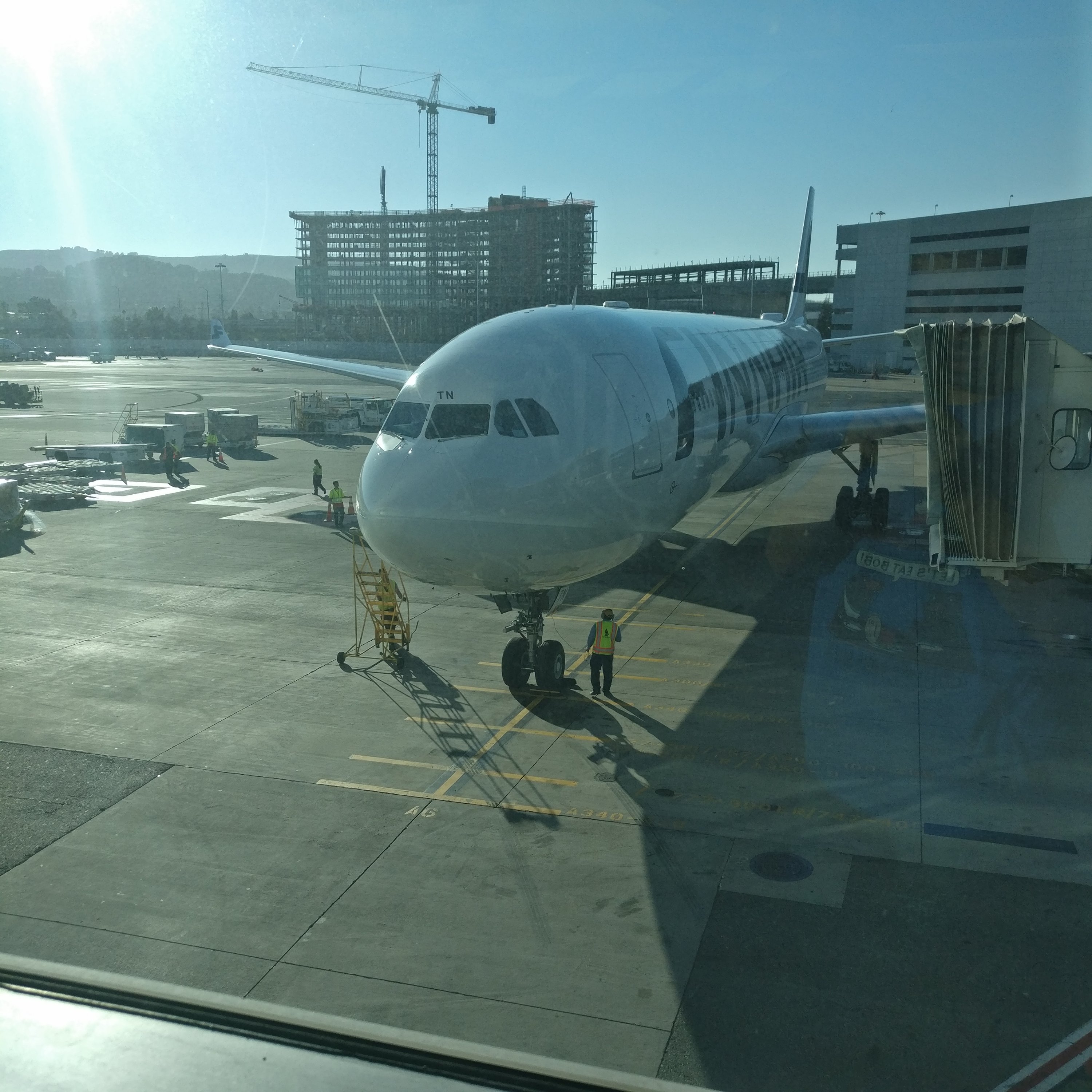 We got to the airport too early, mostly because I wanted to make sure that we didn't really run into any problems. Which lead to us arriving a little over 3 hours before the flight. So we had to wait for the people to show up and work the counter.
We took finnair, which I found to be nice and enjoyable. It was not a packed flight, so it was Sherri aisle, me, empty seat, and a lady on the other aisle end. The lady on the end was wearing high heels and took her feet out of them and into the blanket and would stretch out over both seats. Her feet kicked my legs a couple times as she was setting up. It was pretty interesting seeing the different seating positions she was trying to achieve.
Meanwhile Sherri was sleeping gently with her head on my shoulders/side of my seat. I kept my pillow too high on my neck, so I had really sore shoulder/neck muscles.
I would say the food was not too bad, the polenta and chicken breast was good, the breakfast was okay (roasted tomato and a scambled egg with cheese in the middle)
We get to Finland, and this is when it gets fun. Finland reminds me of the Pacific Northwest, especially Seattle. It takes us some time to get out of the airport, but that was because there were a lot of people from India (15ish) in line ahead( who I think need visas, so had a longer processing time). I think Sherri took 2 minutes to go through border, and the Visa people seem to take 3-8 minutes depending on how good their English and paperwork was.
So we decide to take the train to Helsinki city center. Too bad I don't understand how all the different liens worked. I ended up buying a one day card and choosing something that said Helsinki on it (there were 4 other regions, but I couldn't figure out what those regions meant). At this moment I have no idea if I bought the right card. I just boarded a train and sat down, and then I scanned my card on the side scanners but they said it didn't work. There was no train conductor, so I got to my destination and got off.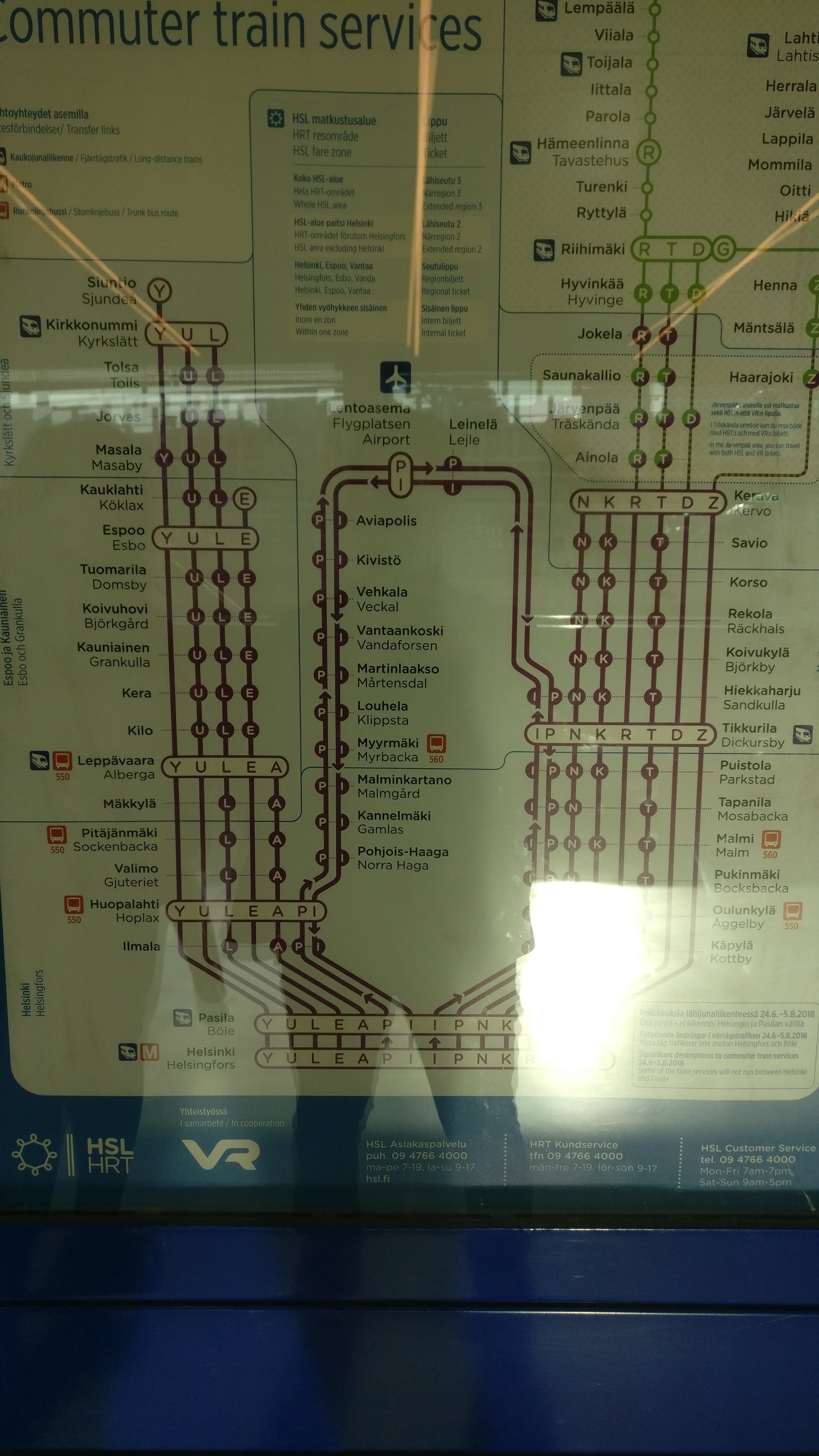 Here are some pictures in the airport
Picture of the airport metro station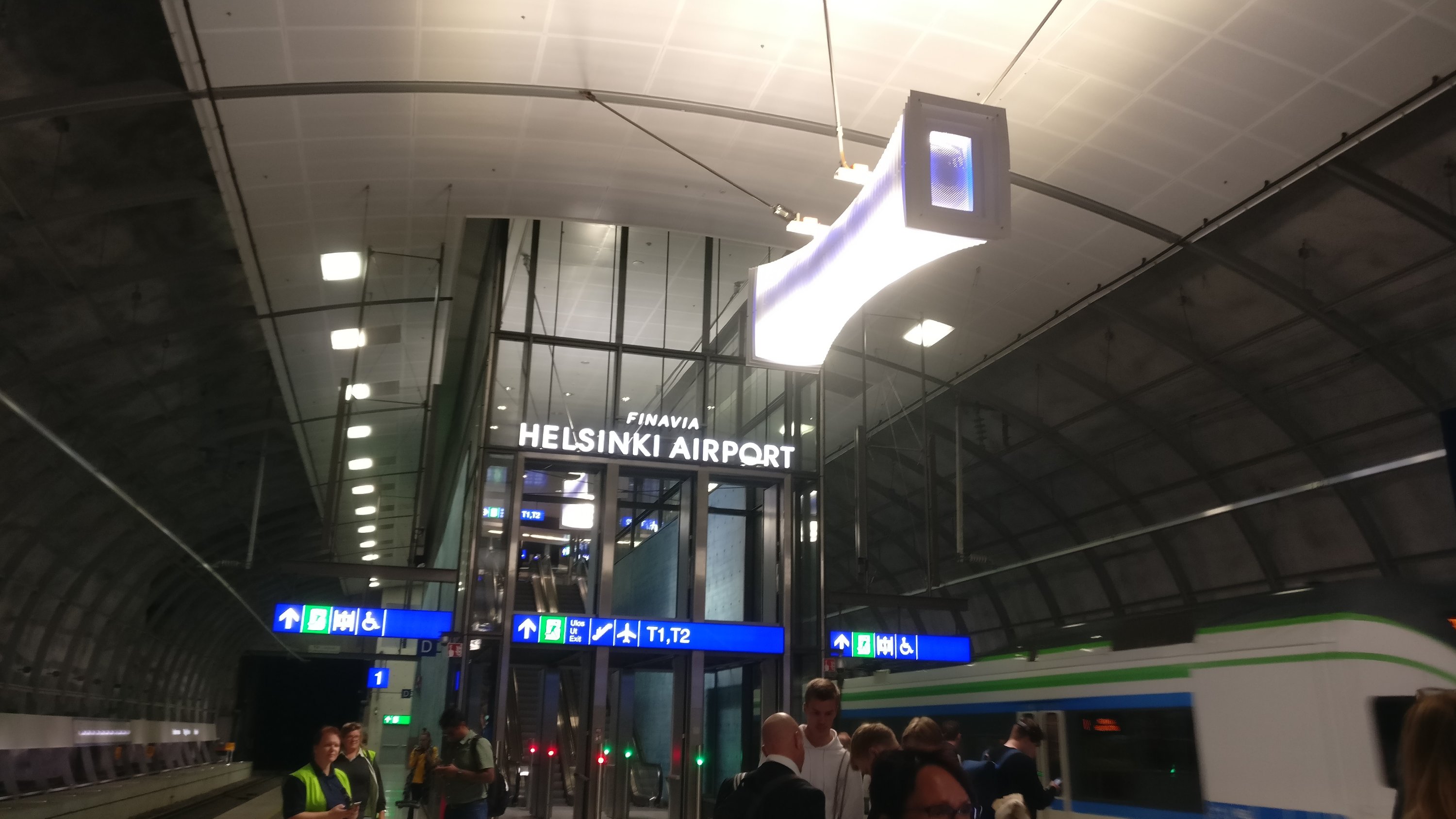 So once we got into helsinki, it was around 5pm, and we started just walking around to all the places.
We looked at the Grand station first. It had a really fancy burger king, and the restrooms cost 1 euro to use, and were passable.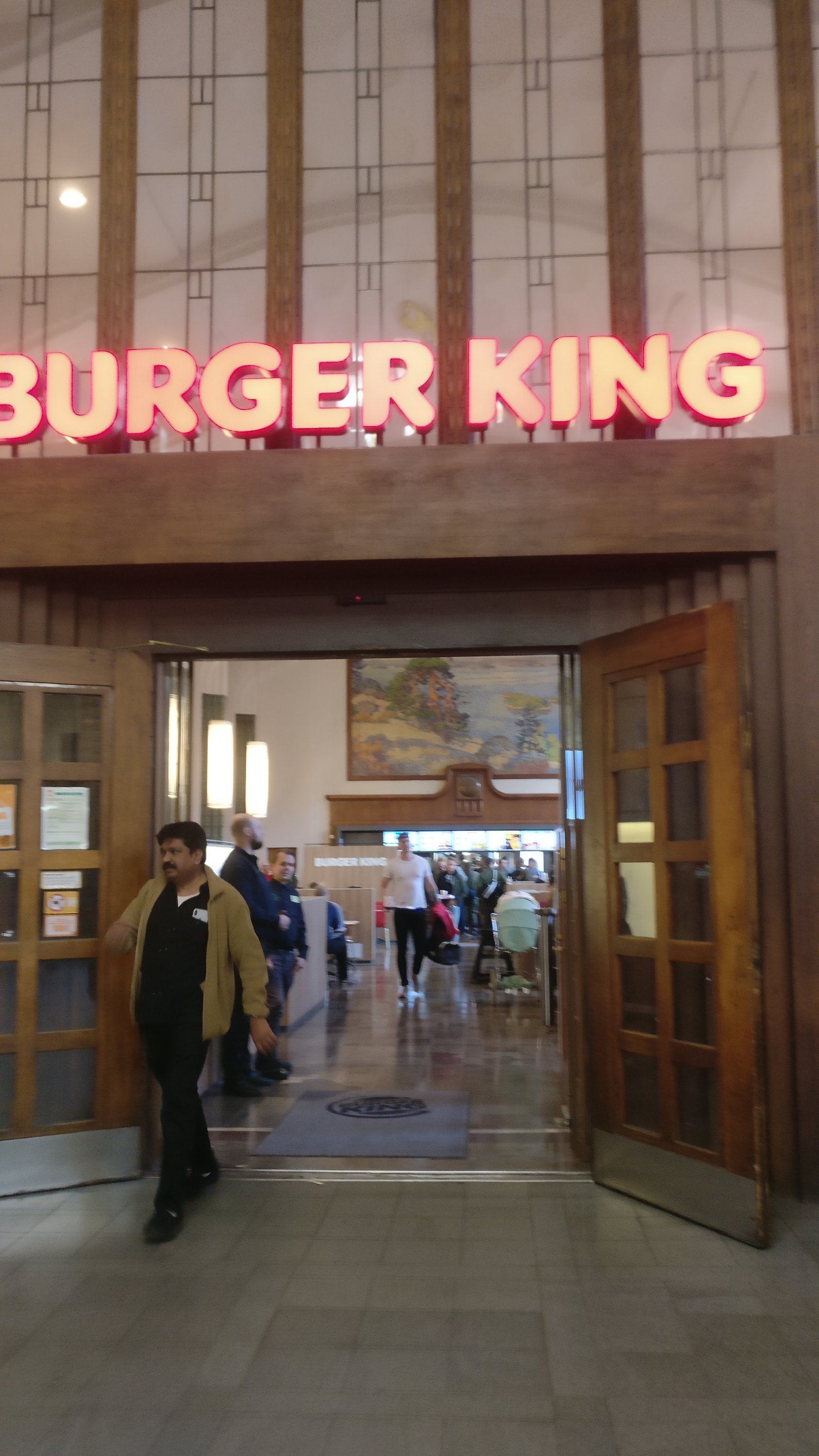 We next went outside and were in the railway station center, and it was all Russian architecture around. Sherri and I were looking at all the cobbled stone roads, thinking about how old they were. Also, noticing how a lot of people were wearing sneakers like Adidas and Nikes.
One of the streets we walked through
Found this cute Cafe in a nice building, we just took pictures outside it.
Near the waterfront, took a picture of the seals and woman statue.
We did wonder about how many seals show up in Finland, because there are a lot of seal statues around.
After that we went to see a cathedral. It was a really pretty one called Uspenskin Cathedral, and I tried my hardest to be the best Instagram husband I could be. But Sherri wasn't liking it. I think eventually I'll get there. If only I could exactly pinpoint what she is looking for. Because I think I get most of it, but one thing is off.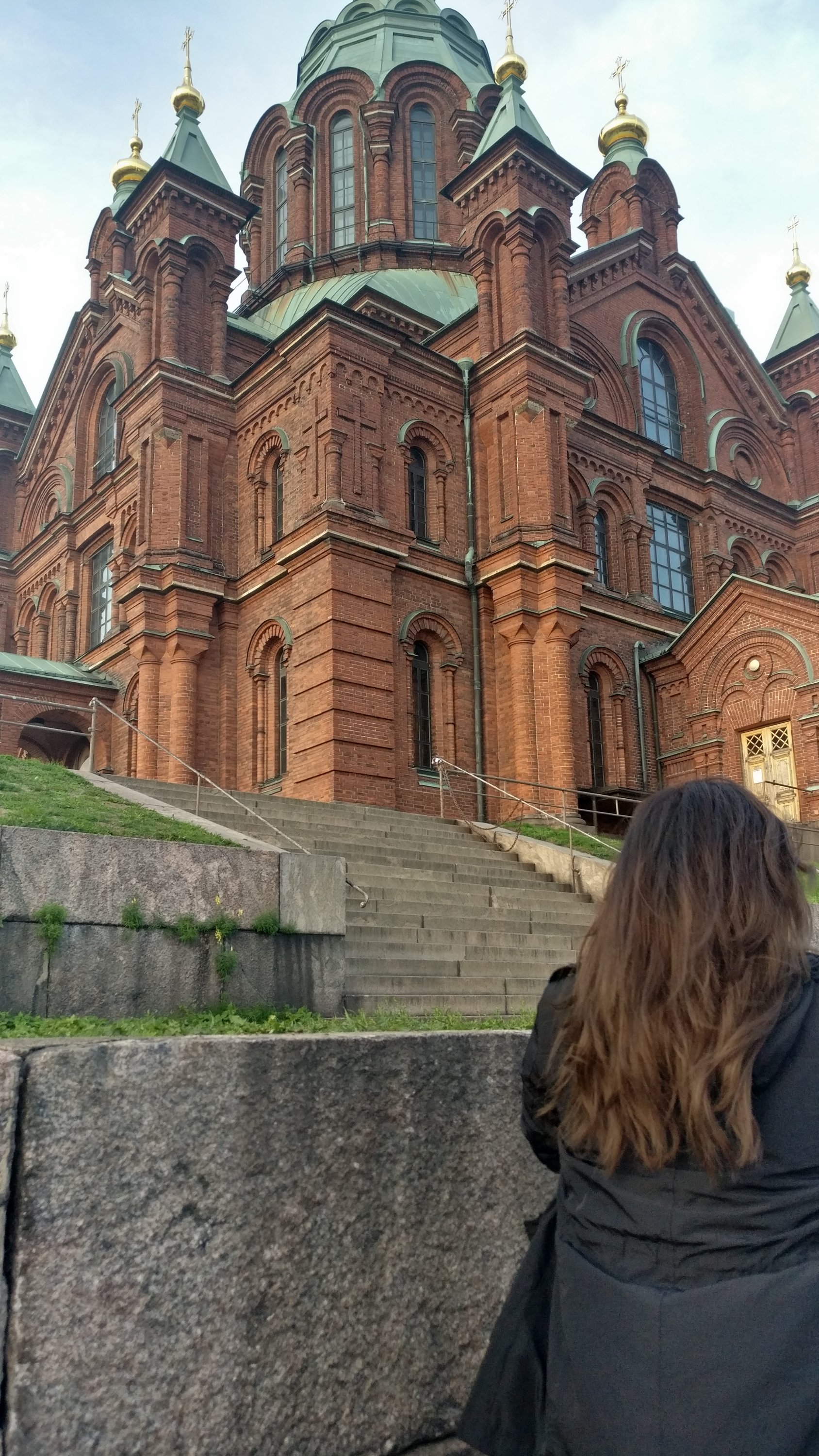 Then we saw all the fun house styles that are reminisce of Denmark. Sherri really wants to go there.
Here is the Senate Square. They have really big open plazas.
Then we finished up eating at Savotta. We came across it in a blog, and it said it had really good traditional Finnish food. So we order lingonberry cider. My favorite moment was Sherri asking the waiter what the best Finnish beer was, and the waiter got all confused. Anyways, I could tell that the restaurant gets a lot of different visitors, they had their menu in at least 4 different languages (one was Chinese)
The appetizer was super delicious (from left to right from top to bottom)
Reindeer in some type of pate, beef(something that tasted like roast beef) and elk meat,
Potatoes, Finnish fish looking biscuit
Sometype of fish, cheese, pickled radish, mushroom salad
Ligonberries on slightly cooked salmon, and Arctic Char in some type of dressing.
The funny part about eating this stuff was that it was hard to tell if it was a spread or food. We didn't hear him say mushroom salad well, so Sherri thought it was some type of spread for the bread. And was going to ask for more bread for the spread. ? Good thing we figured that out.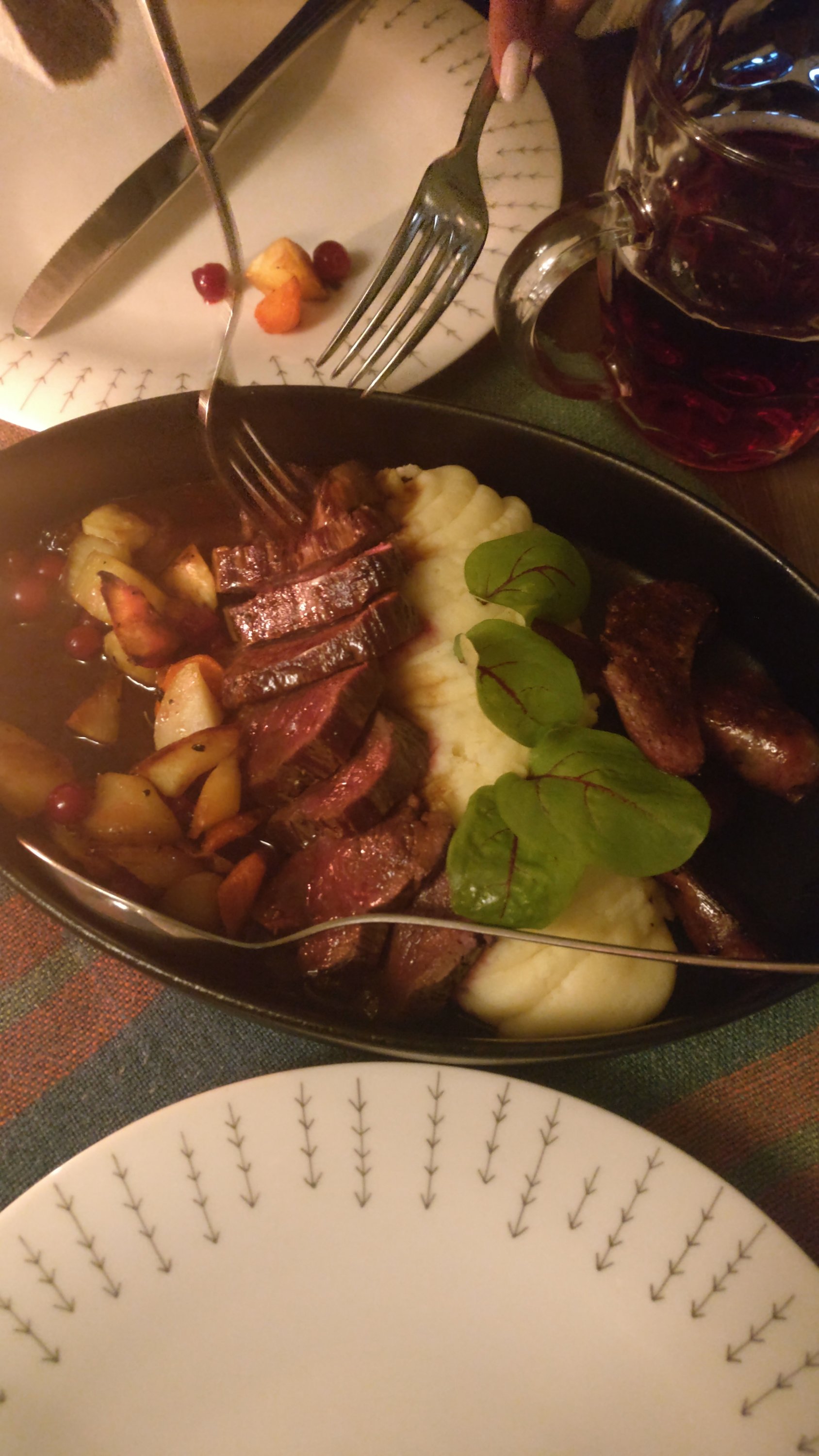 The reindeer meat was delicious, the reindeer sausage was good too. However, I think I just love biting into the meat itself, instead of the sausage. Potatoes are always good.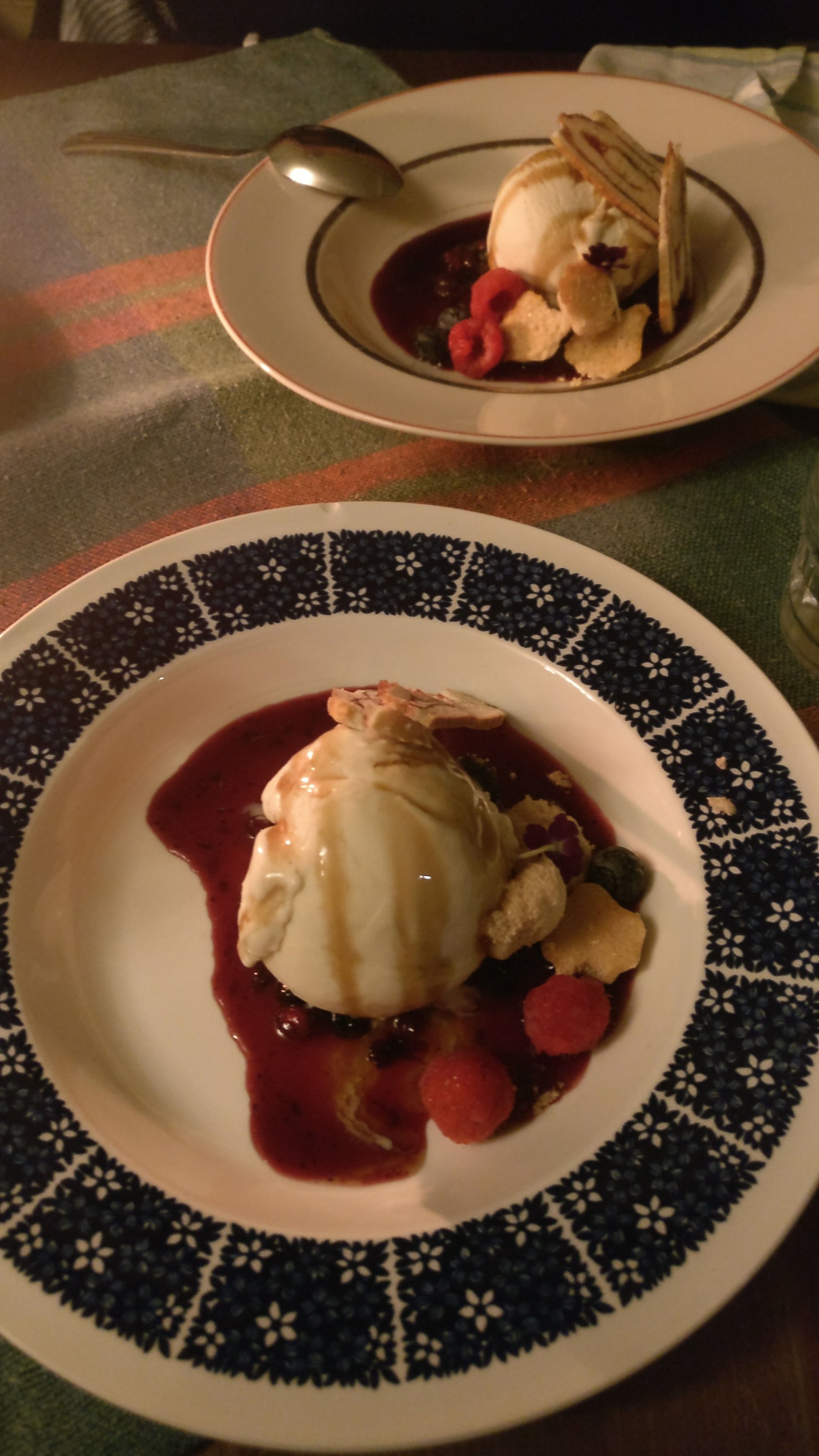 Meal ended with vanilla ice cream with licorice syrup liquor on it. I guess I don't really like liquorice that much.
Overall, the food was really good. I enjoyed all the appetizers. I noticed the couple next to us order some of the same things, so I saw them glance at our food when it arrived. They were a party of four Germans.
The price of that place was really expensive after I paid the bill. It was around $200, but worth it for a nice 2 hour meal.
Then to end the night, I read her a short story from this sci-fi book I bought.
Overall, this day has gone really well and Sherri and I really enjoyed each other and figured out more about the things we liked. Also, I used a lot of the things I learned in marriage counseling to help her feel loved.