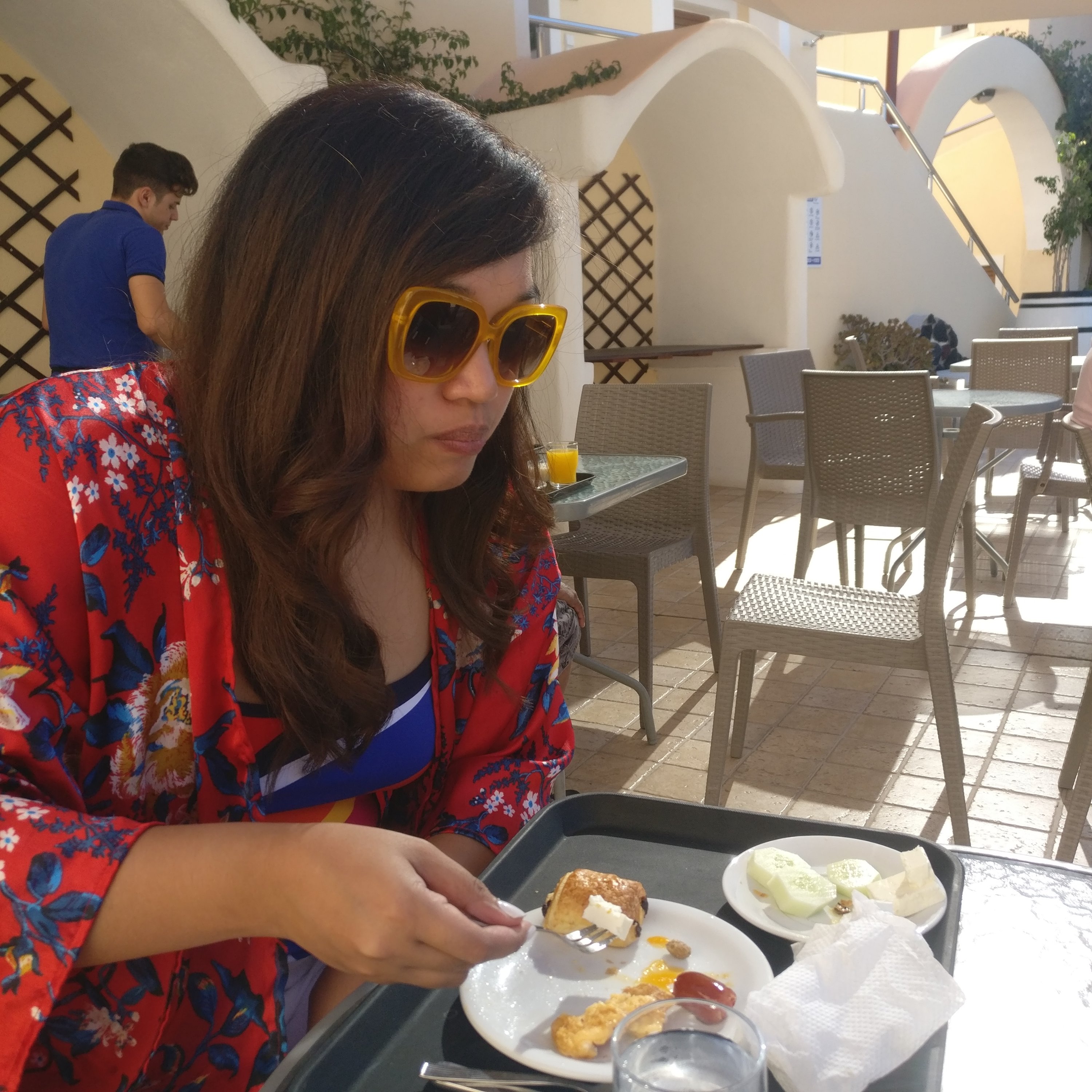 Day 3 out in Santorini was our first really fun island living. We were down on the southeast side, and the place reminds me of Mexico. Mostly because of the resort vibe I get from being next to the beach.
Woke up and tried the breakfast buffet, it wasn't bad for the price. The food was pretty American traditional, which was pretty much eggs, sausages, bacon, and some assortment of breads and cheeses.
I really love this flower. Makes me want to grow it in my backyard.
In the morning, our goal was to walk to the archelogical sits, then lounge on the black beaches.
Sherri didn't exactly know what our plans were for today, because she was still a little sad that I did not rent a car. However, I had a backup plan.
As we walked down the street, you could see the rows and rows of beach umbrella seating, I think every restaurant had a beach seating which was free with a minimum food purchase. Or if you didn't want to pay for anything, you could still just lay down on other portions of the beach.
I would say the scariest thing in Santorini is the ATV's and Cars, these roads are small and tight, and people and cars share the same path. So I always have a feeling i have to watch out of ill get hit by a car.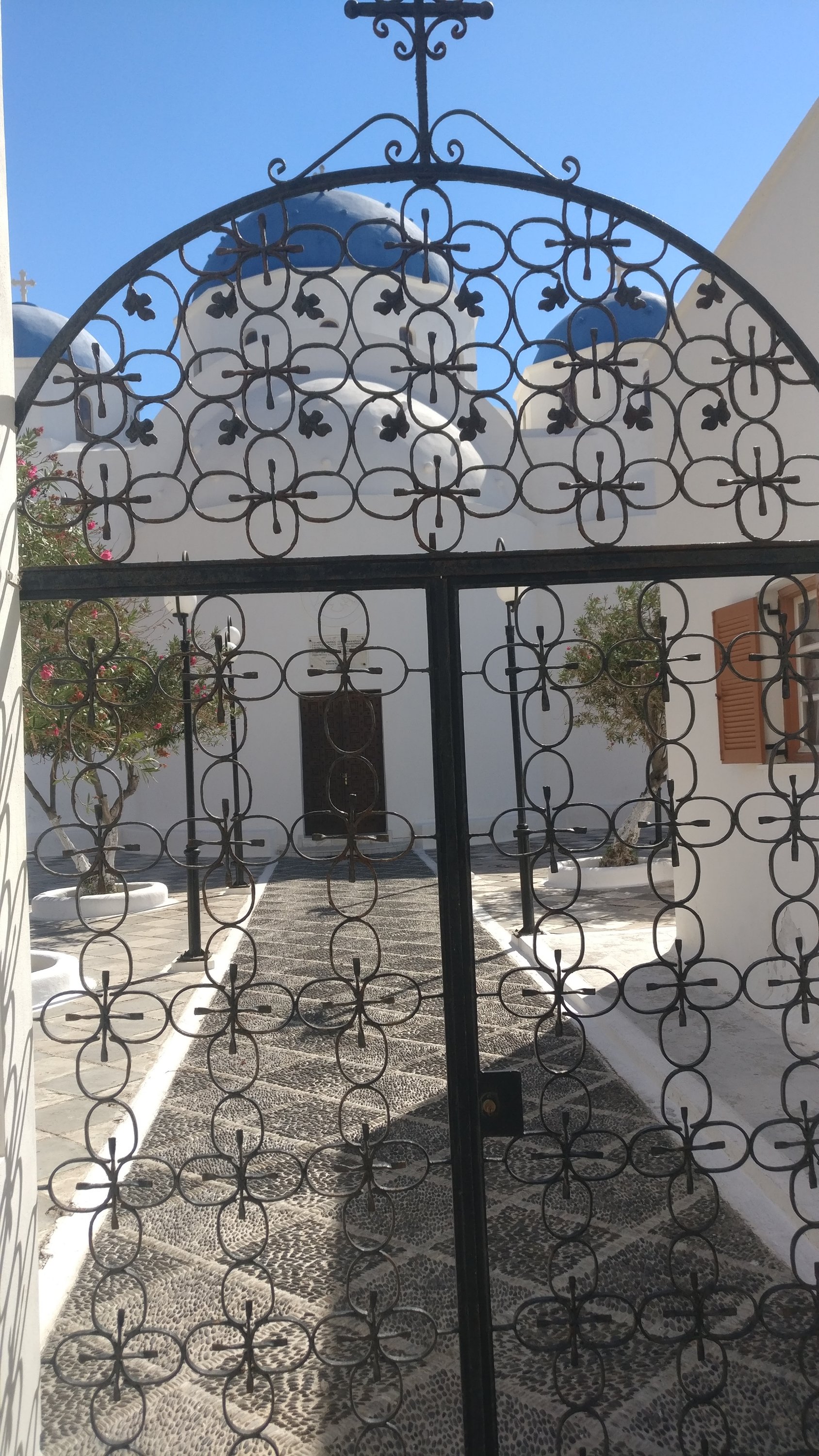 We shop a little bit for Sherri, she got new leather sandals. Then we took pictures at the pretty church next door.
After doing some shopping we end up going to the beach, laying under an umbrella from one of the restaurant. The owner is standing on the sidewalk shirtless, and Sherri is telling me do I want to move to Santorini and do that? I tell her yes, because it looks so fun.
The black beach is interesting. It is not as fine as the sand I see in Pismo, or Hawaii. It is a little more gravel, like the sand I use to level out the ground when you want to add pavers to a yard.
We leave the beach at around 1:45 to get back home and prepare for our sunset Cruise. While we were waiting our there, I learned how late Greek time is, our driver got to our place a good 20 minutes late. While we were waiting outside for the bus we waved at an old lady across the street. She was so nice because she came out later and gave us candy. Sherri was scared of going over because she had no idea what the lady was doing. But I went over and got some candy from her. I didn't understand her, but from her hands and motion, it was because we were friendly and waved at her when she came out of the house.
Then we hopped onto a bus and arrived at the boat for our sunset Cruise. It was a semi-private boat ride, which meant there was only 14 people most on the boat.
There are the pictures of similar looking boats. Out boat went to two of the beaches where we jumped into the water to swim. It is fun how having a noodle made it so much easier for me to rest and float around. I think I just have no swimming stamina.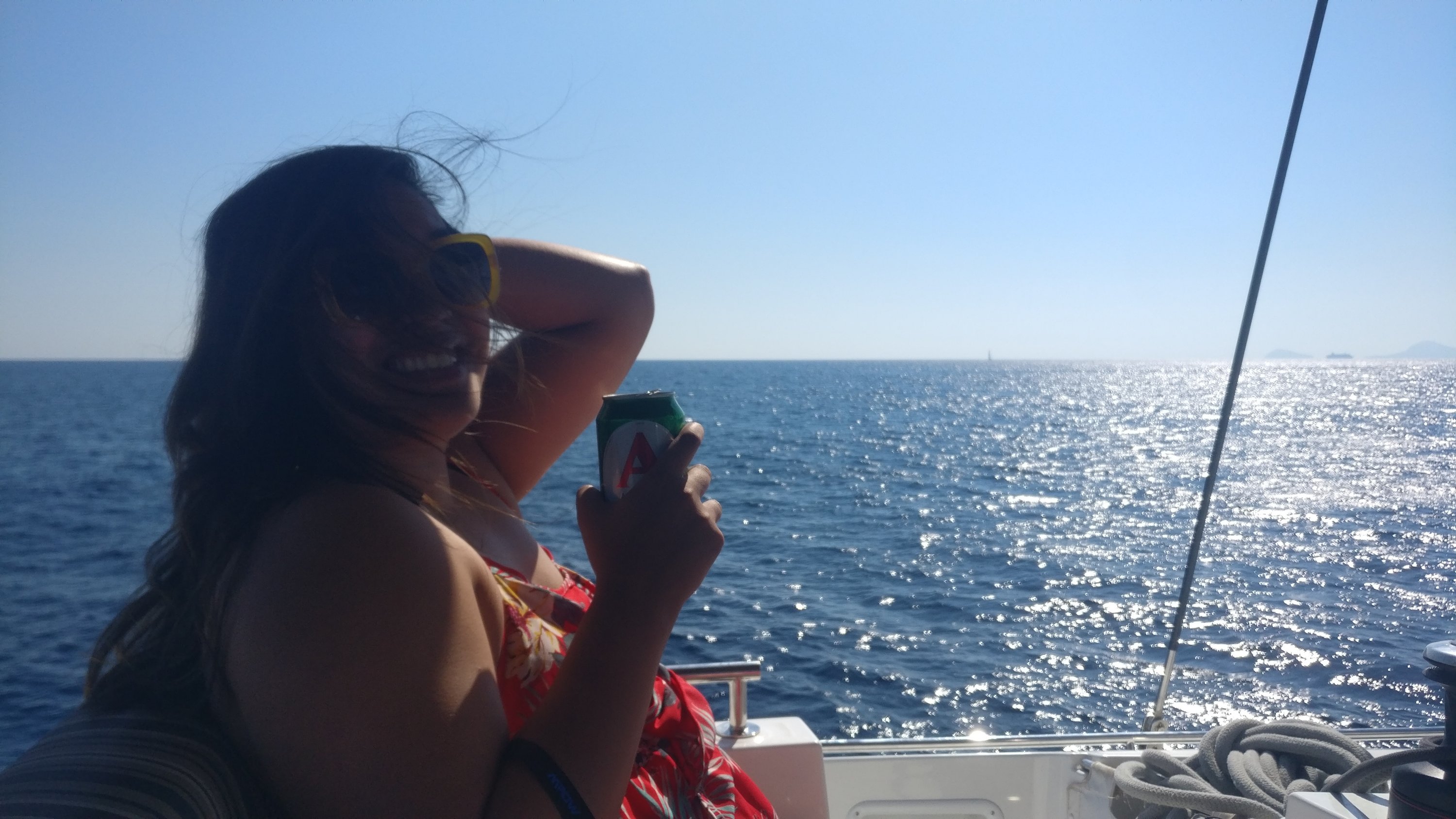 Sherri and I were louging in the top seats next to the boat captain. He was a college student who must have been texting a lady because he seemed to be texting a lot, and mostly just letting the boat steer go straight and letting the tide take us.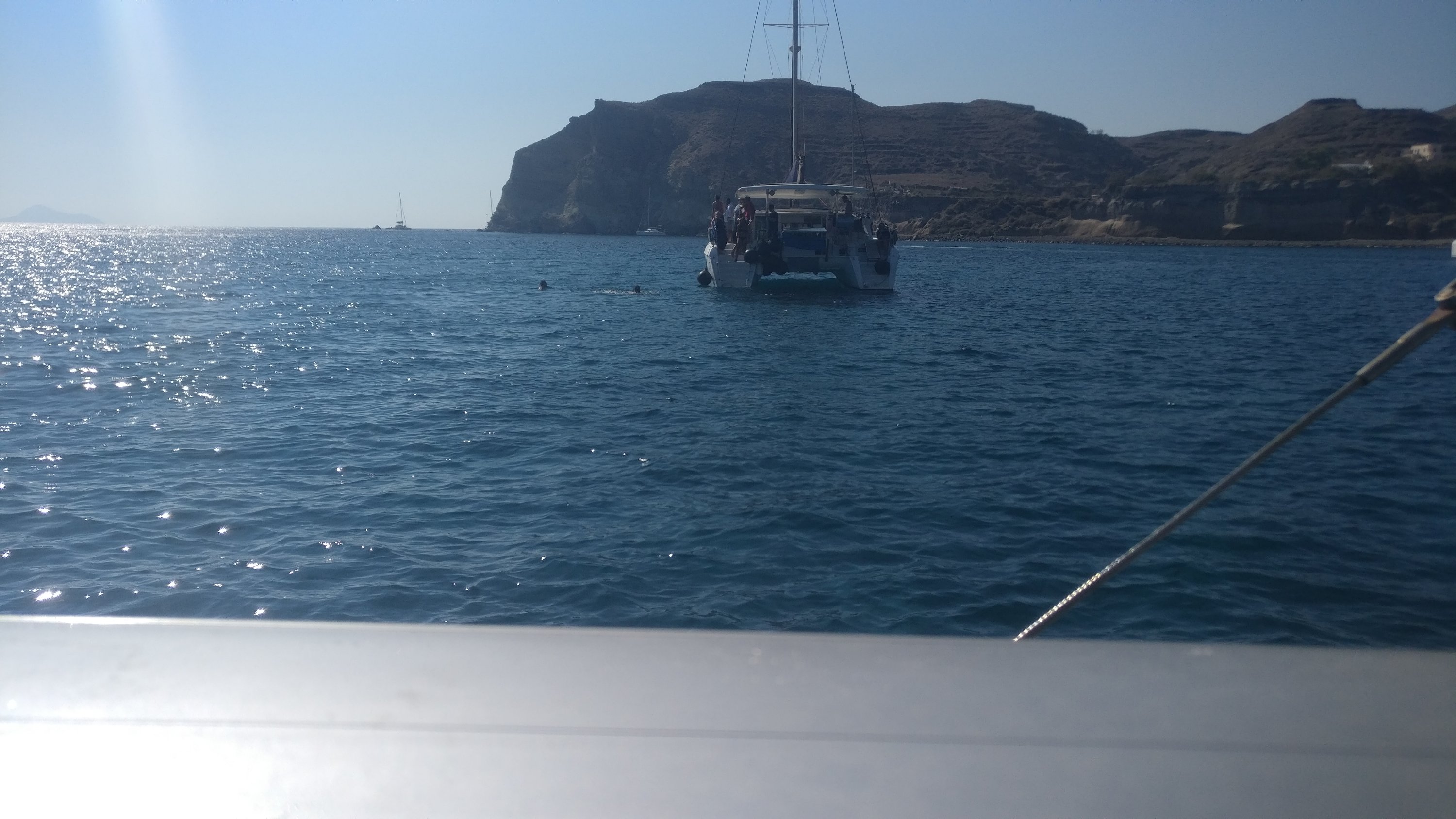 We did a little snorkeling. The water was really clear but there were not a lot of fishes to look at. Meanwhile, the snokeling equipment was not extremely airtight. So i could only see for a minute at a time.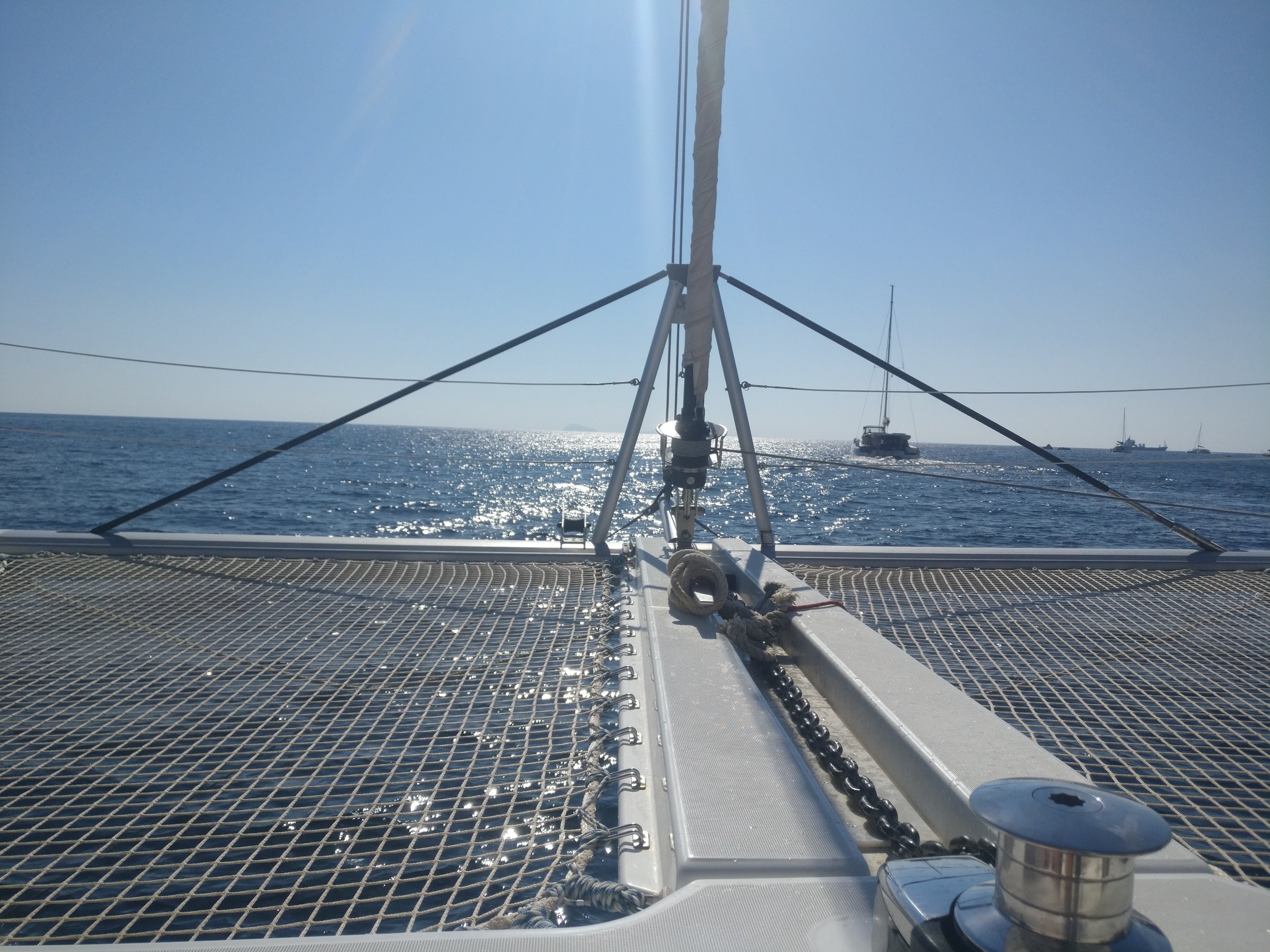 Here is the net we could lay on when the boat was not moving, it was a pretty solid role that had very minimal give to it.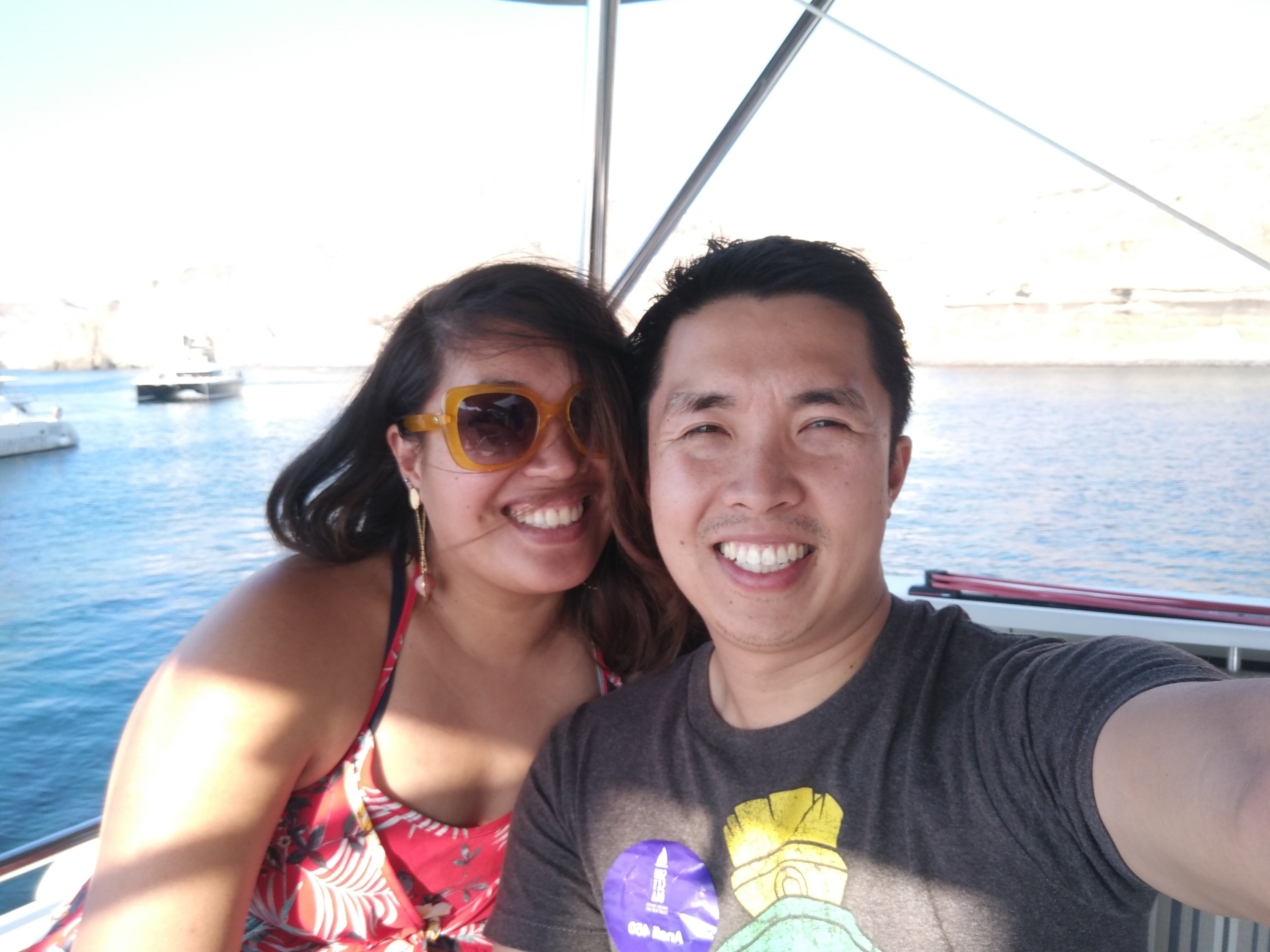 Our third stop, we swam a little more and then had our meal. They cooked a really good pork steak and chicken breast. However the pork steak looked better. Too bad my stomach shrinks when I swim because I was not hungry at all. It took a good 30 minutes of me struggling for the food to get finished.
Then the main deal of the night was our sunset view. We floated across the amoundi Bay and a church on the rocks.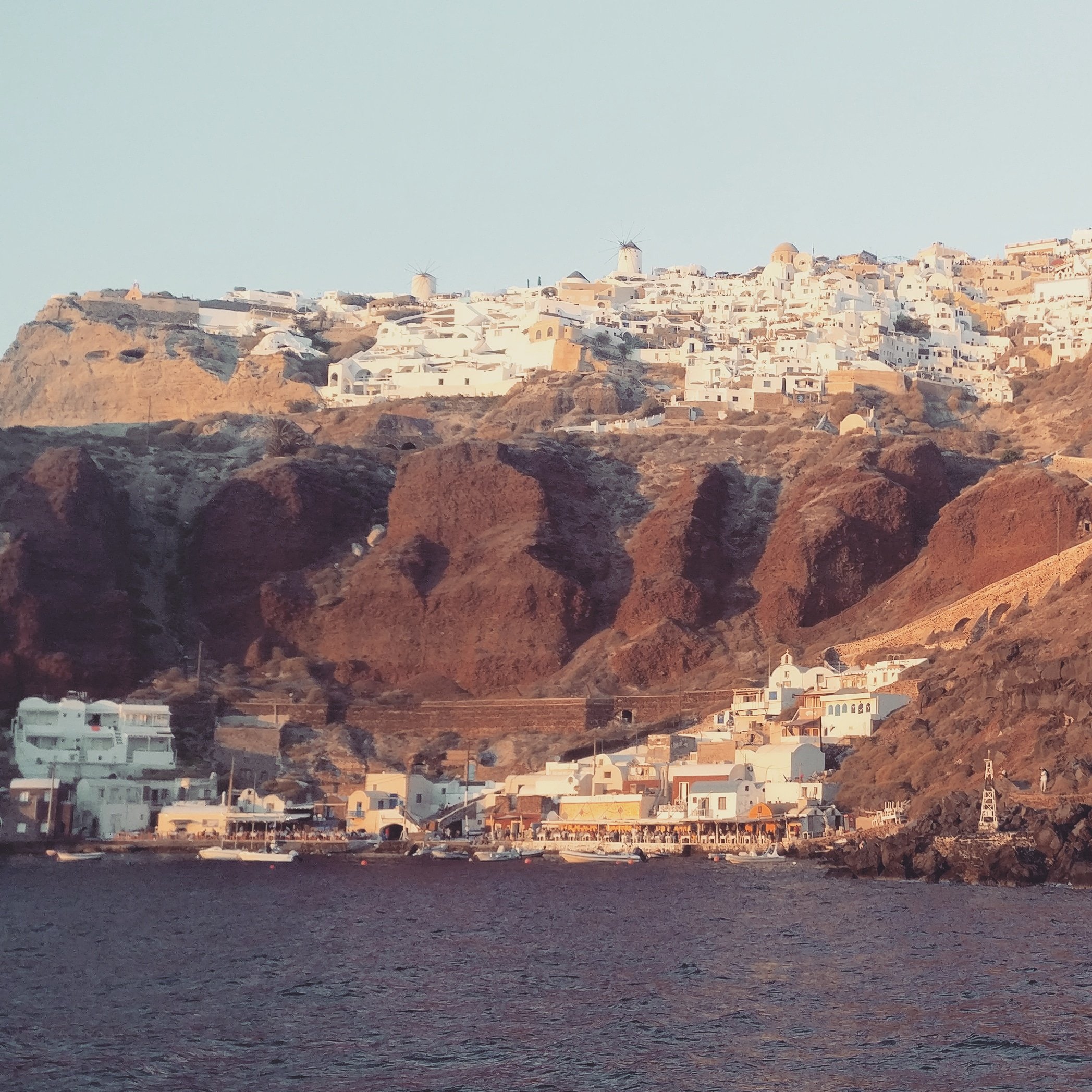 Here is a look of the village of oia after the sun was really close to setting.
Here is Sherri enjoying the sunset as the golden red color engulfs her face.
There was a really funny scene, as I was walking up from the restroom during the sunset part. The captain was slightly adjusting the boat, and I accidentally grabbed his wheel and jerked it as I was moving to sit on the top of the boat. It made the captain jump because he was holding on and then the wheel just got spun, and two other coworker who was next to on the boat were laughing so hard. One of the co-workers gives me a fist bump later saying he liked that a lot.

Then once the sunsets, we all clapped our hands at the sun for being good at doing it's job. ?
Then I also learned how bad the traffic in oia is. I didn't realize how many Cruise ship people take the bus up to oia for the sunset
So that place is packed and in the summer it can take over an hour and a half to go back to the port for them (it takes around 40 minutes usually).
Eventually, we get back to our hotel room in Perissa.
Overall today turned out wonderful, not having a car did not hurt as at all because I found out our photographer is picking us up tomorrow. He will deliver us to the next place. ?