I enjoyed my birthday a lot, and it is so awesome having all my friends come over and celebrate with me. The schedule went like this
5:30-7:00 – Dinner
7:00-8:15: Escape The Room Game
8:15-9:00: Prizes, and cake
9:00-night: Unplanned fun (karaoke?)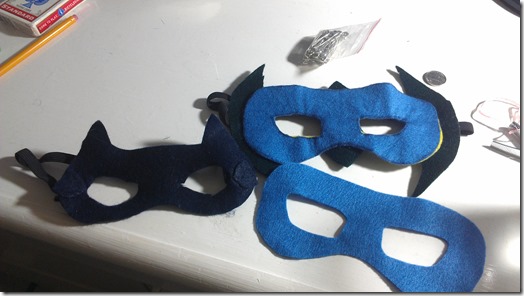 I made the theme heroes and villians, so people could dress up. A couple people really dressed up like Jaime, she went as wonder woman with a cape and all these other fun things. Anna went as french toast. It was pretty cool that people did try to dress up. Benson came as an android mascot.
ALau as the hulk.
For a lot of the people I made masks for them. So I had sherri and my sister helping me make all these masks. At the beginning I actually sewed the masks to the elastic band. However that was taking too long, so I decided to just staple it, and glue over the mask.
First thing was getting food, I had initially thought about going to cater dickeys or kinder. However, it is pretty hard to order the right amount of food when I didn't get all the responses back, and I think my party could jump from 25-35 people. So I wanted to make sure I got enough food, but didn't want to overspend and get too much. Places like dicky and kinder are pretty expensive, around 15 dollars a person. So it is around a 100 dollar swing when 8-10 more people come.
I ended up choosing L&L because my co-worker said it was really good for the price. When I was talking to the lady at the counter to figure out how much food I should get, she didn't really know. She said everything is 50 pieces in the big tray.
For some reason in my head, I was thinking. Everyone will eat around 3-4 pieces of food. So I should get 4 trays because people will snack on the rest. It ended up costing me around 370 dollars for all the food.
How much food was eaten at the end of the night? Half of the chicken katsu, 1/2 of the short ribs, 1/4 of mac salad, 1/3 of bbq chicken, and 1/5 of the kalau pork. So much kalua pork was left over, it looked like no one ate it (I just brought it to chuch and they served it for lunch).
After the game, we had a karaoke thing. I set up my mixer, plugged in Chosen's labtop, put in my mic and we just sang music off of youtube. It was super fun, I don't think I will ever use my magic mic again. So I should just sell it.
I still have not made my magic show to use my lights that I just for karaoke, but I'll figure it out eventually.
Overall, I thought it was a really great birthday. I was so happy that people tried to at least dress up a little, and take the time out to come. They might not know it, but I did put a lot of money and time into my party. I think it came out to around 550-ish and 25 hours to prepare the game, buy the props, food, and little goodies. I kind of do it because I want to have a great party! I don't want to compare my parties to other, but I want to make sure that if I had a party, people would want to come to it. Mostly because it isn't the same as other parties (eat dinner and talk), but have some entertainment value.
It makes me really happy to give out prizes, especially t-shirts and other goodies.
I will really enjoy and treasure this moment, especially since I will never be 20 any more. Which does make me sad, knowing that I am getting older, and it is time to enter a new chapter in life.