So for mother's day, I made an exploding box for my mom. You can find a lot of those tutorials online. I'm not sure how long it has been around, but I think it is only pretty recent.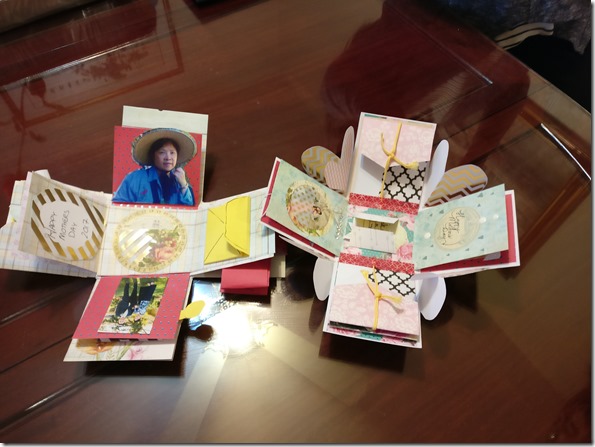 So how did I get onto these cards? My co-worker was showing me a card that her friend had sent her. The girl had made it for her boyfriends, and it was a 2 minute video. Where she was opening different pages and showing different things on each page. This looked really interesting to me, and I knew that Sherri would like it.
So when I got home, I was so excited to show Sherri this new thing. I remember she was doing something else, but I just waited for her to be ready so I could show her on youtube. Once you saw it, she was so excited when went over to Michelle's house and
got all her scrap booking equipment. So she ended up making these. If you look at the first picture, I made the one on the left, and Sherri made the right. Initially mine has technically more fun stuff out of it, but Sherri's looks really pretty.
In a couple weeks Sherri will be really good at making these cards, she made them pretty and added in all the technically pretty things. Like pop out notes, and infinite notes.
So one of the big things this year, was trying to make sure we celebrate mother's day with my mom. It is the first really full year that my dad has been gone, so I wanted to make sure that we still celebrate as many things for my mom as possible. Mostly because we can't celebrate his birthday or father's day anymore.
So we tried tasty pot, which is a taiwanese hot pot, which is the hot pot but with all the stuff already inside. It was really good, and I think my mom was really surprise that we wanted to celebrate it with her. Mostly it is because I want to make sure I spend as much time making memories with all my love ones, because once they go. It will be a while before I see them.
That is also why I write a blog, I think one day. I'll want to make sure I have a family list of items, so my future relatives know about me. I met a guy who owned a winery in castro valley that had his life book on the table for us to read. I think I'll make something like that when I turn 35. *makes note in mind*.