Today woke up and did studying. =), A lot of that stuff that I have to do for the P.E. test. It makes me sad to think that I don't have motivation to study for the test. Instead, I want to just play guitar and learn new magic tricks. =). The other sad thing is knowing that everything i know to pass the test, is locked somewhere deep in my head where I learned it in college. =)
Bought around 75 dollars worth of food for the Diana thank you party. I actually was trying to cook the lasagna and tortoliini from lucca deli. =) It didn't come out correct, so took forever.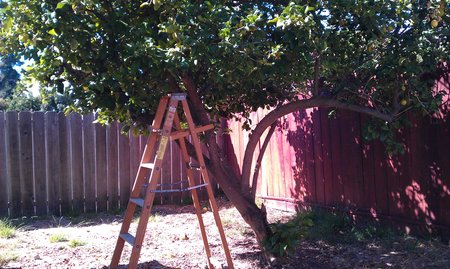 The funny part was that I left at 2pm to see my auntie at my house. She and my cousin Zoe wanted to pick some lemons off the lemon tree. They picked a lot of lemons, 4 grocery plastic bags full. My aunt said she will team me how to make lemonade one day. =)
Then I went out to berkeley to play disc golf. I lost a disc into the high brush, so I will have to order a new set. =) Other funny thing was I was telling my friend about how in college, I had a friend who would carry his disc golf in a heinken 6 pack box. A perfect Fit
There was a pretty pier on aquatic park so we were watching the sun from there. Amazing stuff, then cheeseboard on the middle island, and indian rock.
I guess people might wondering what is my stress level right now. It would be, I think I am being stretched pretty thin, with house and studying. It is a whole bunch of things just hanging on my mind. =) So it is making me a little more "frugal" in my time, and trying to be as efficient as possible.
Which made things like helping out with Awana a little bit harder. Ranting time …. If you don't know what Awana is, it is a little kids (k-6th) fellowship group. Right now , they are just disorganized, but making it through. My friend said "you have to just jump in and take something by the reigns". It is a good idea, but I really am at a lost for who needs what help. All i did was clap my hand and cheer as the kids were playing the game. So right now my thoughts are very low in wanting to help out. Also without a little direction, I have no goals to achieve.