I wish I had more to write about for the weeks, but not much really happens. Mostly stuff like washing dishes at my parents, talking to my girlfriend on the phone. Then there is the random just sitting at home and trying to make videos.
Anyways, it is Saturday and I am having a double date with Calvin and Susanne. They were the only people that actually wanted to watch "we players"with us. I guess I was not able to convince other people. It seems more people love musicals over just full acting theater. Also, the price is kind of high at 80, which makes it more or a "you have to love it" to spend money on it.
We start off eating lunch at chessboard in Berkeley. Sherri had to go to Stockton to pick up her dress so the plan was to eat lunch at Berkeley and wait for her to come back. It was cinco De mayo weekend so the pizza was Mexican. So salsa, with the pizza having a lot of corn and cilantro, and the greens.
The food tasted amazing and we are it on the median, until the cops came and kicked us away.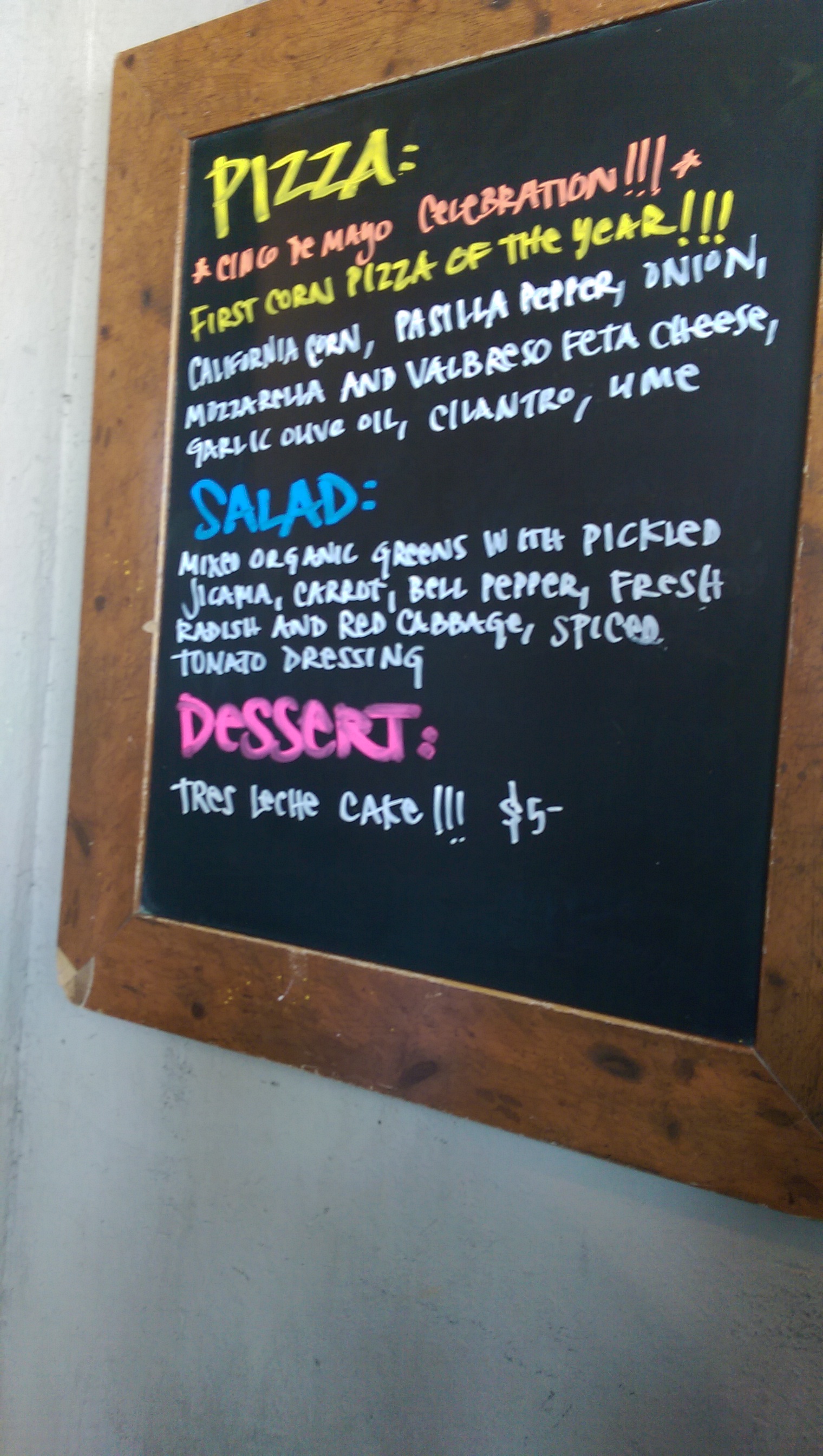 There was a cute little girl fundraising for her school. It was for an ipad, it was a dollar a ticket, and you got a free cookie for buying tickets. 🙂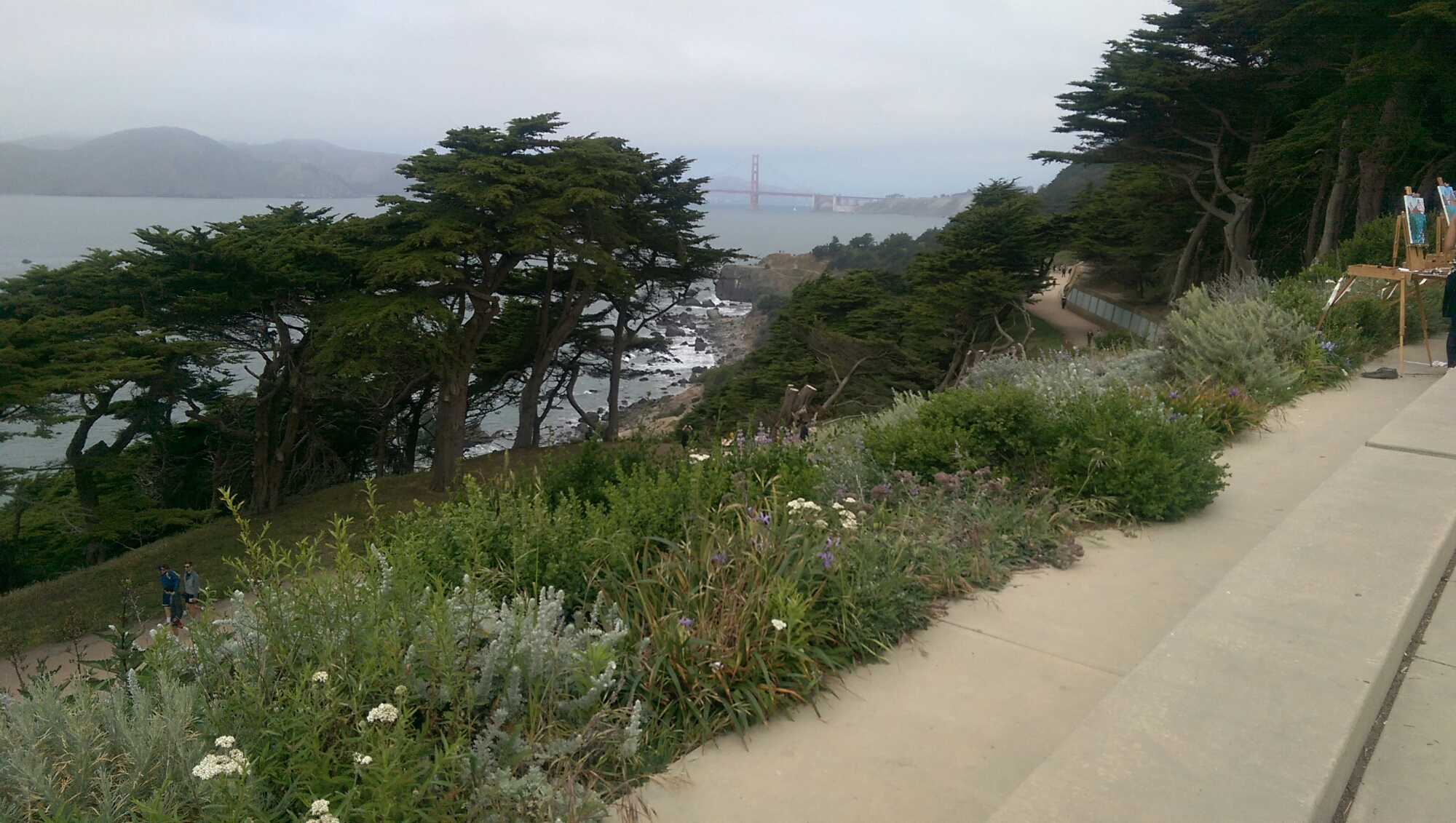 It was a little of a drive out to the sutro baths , but there was not much traffic. So the drive was only 35 minutes. We got there around 1.5 hours early. So we decide to walk around. Mostly towards lands end, there was an outdoor art class there. All these people were painting the golden gate bridge as the picture above. Their drawings were okay. I would say out of the 10, only 2 look super realistic with a lot of colors. The other ones looked more like coloring in picture book.
The weather was pretty cold at the bath house. It was 65 degrees, overcast, while it must have been 80 at Berkeley. I was smarter than last time at fort point. So I wore a beanie, brought scarves and gloves. Sherri didn't think of bringing hers( eventually she ended up wearing all my outerwear except for my beanie.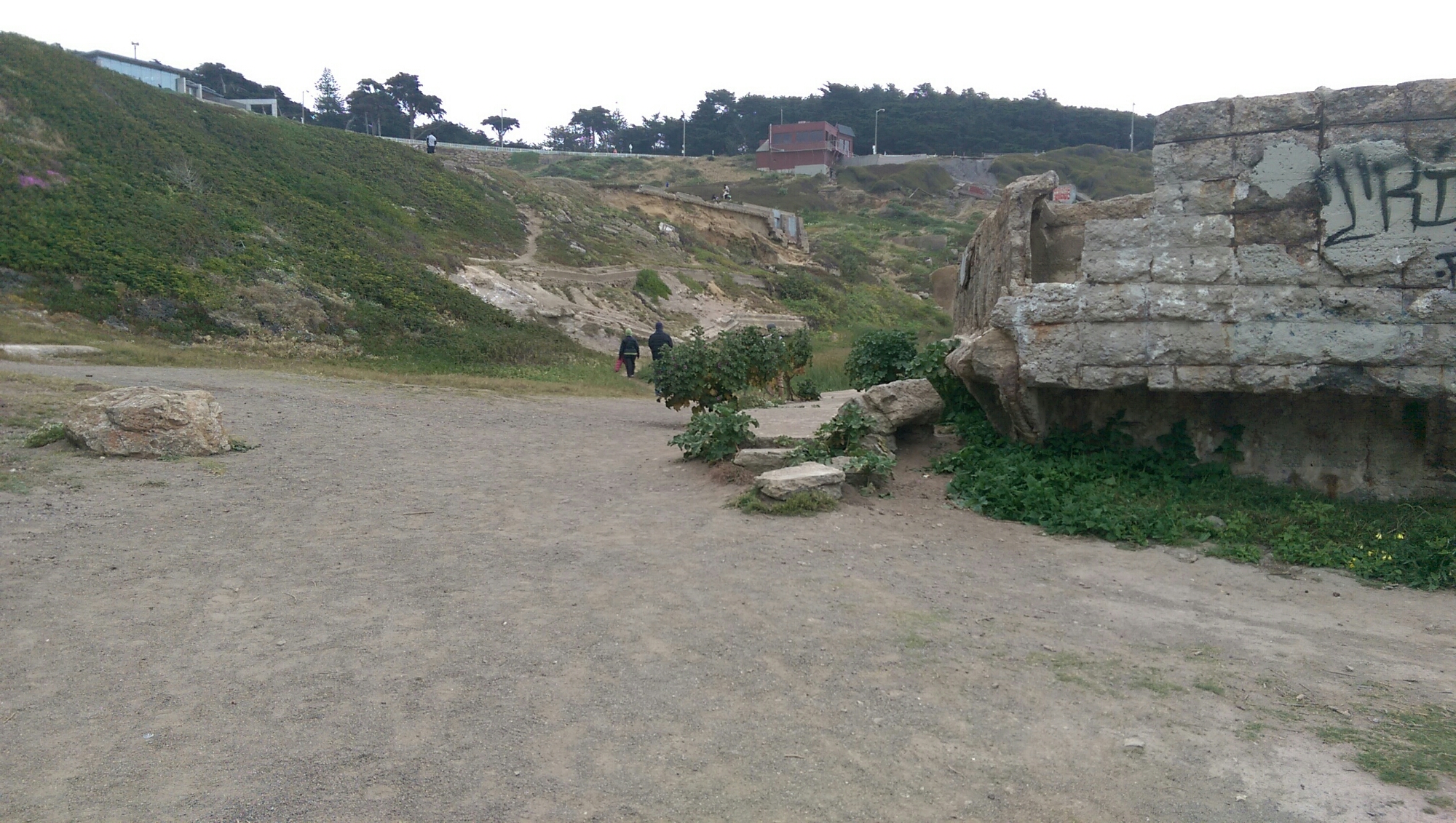 We took a quick run through the ruins just for fun. There were some people there dressed up. So we thought about talking to them. There was also one guy dressed up as a priest. However, we think he just happened to be dressed up that day with his friends.
I actually got a snack pack from them, so I got this we player bag with popcorn, nuts, Apple, and water bottle. I guess I really wanted to donate extra money to them because I know they do a good job. The past few times.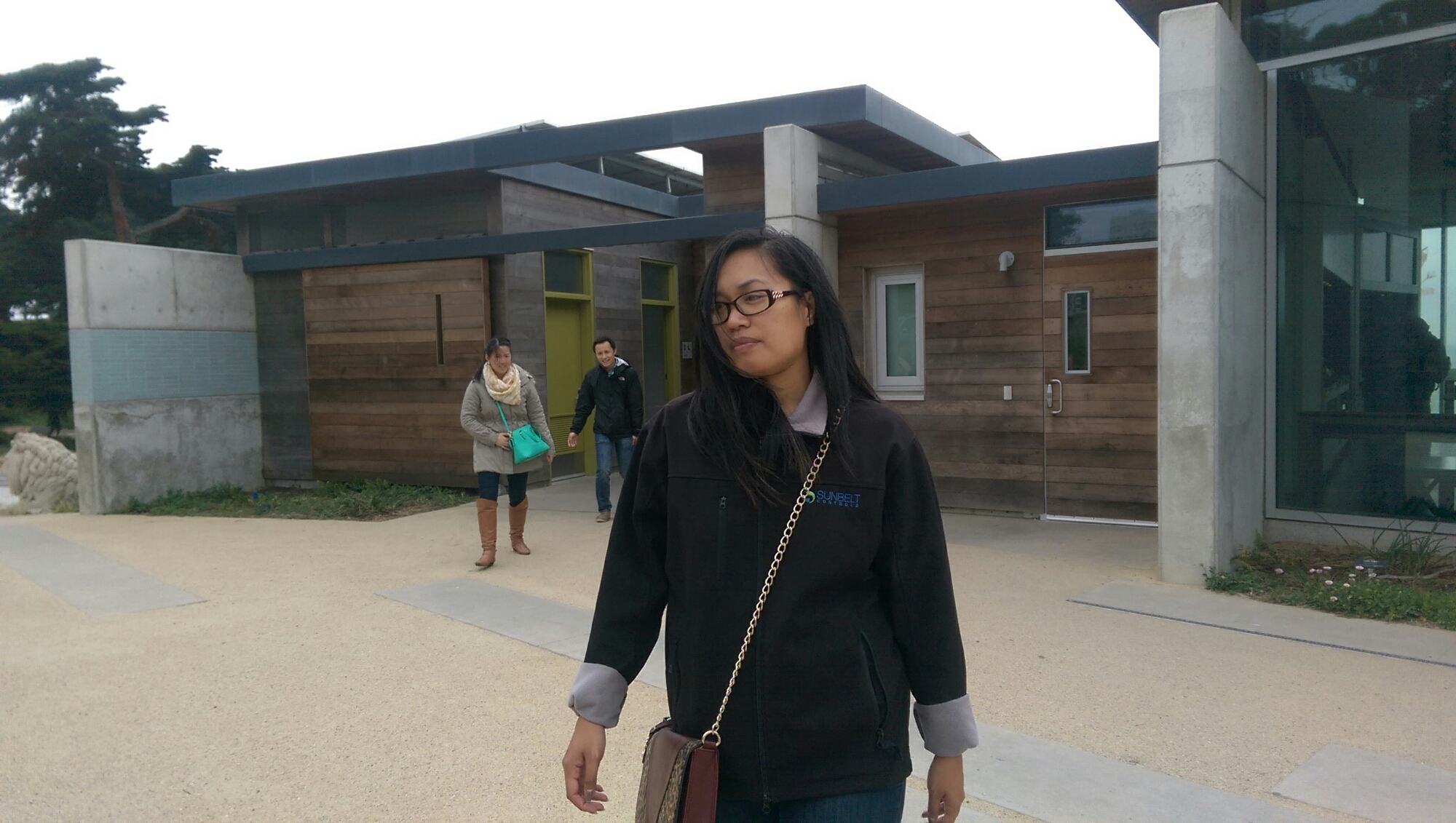 I don't have any pictures of the play because they asked us not too. However, the play was made into 3 acts. The first scene was in the baths, then the scenes moved more once we walked out to the parking lot, and park.
I felt sorry for some of the actresses that were running around like water nymphs. It was cold, and they were just randomly laying around. Sherri was trying really hard to catch them running. Mostly because the first scene change, they moved so fast from spot to spot, that they beat us to all spots. Especially the musicians, they had shortcuts that they took to make it all the way with a tuba.
The funniest thing was the guy dressed up as a horse. At first we couldn't figure out what he was suppose to be. We thought some demon, but he eventually started to walk and move around to make the look for a horse. It was good to realize he was a horse and not some demon character looking at us.
As for the acting. I really enjoyed their rendition of ondine. They did a great job of translating it from French, and also making the analogy more modern, so easier for me to understand. The spacing wasn't too bad, I think there was around 50-75 people.
The story is pretty tragic , like "the little mermaid" but sad.
We were starting to freeze at the end. The ending was really interesting. It was good that I had listened to NPR, because there was no curtain call. It was more like the actors all just faded away. That was done intentionally by the director who wanted to give the idea of "what is happening to the people".
I heard that on NPR, and I guess my coworker, and guy from church who listens to NPR heard the same interview.
After thinking about it, this play was different than all the other ones. It was more romantic and less action. I guess I should say this play was a sad chick flick. 🙂
However Sherri and Susanna really liked it. I think they want more double dates with us.
We ended up eating dinner in the mission. Burritos galore.
That's all I have for today.