Sherri and I went to our first wedding of the season. It was paula and derrick's wedding. With PaulaBao and Derrick Tao. I would say Derrick had a really pretty wedding website. Mostly because he built most of it himself. He used some salesforce software, so he was able to figure out who I was mostly with my name and zip code. It would search for me.
The also had a Single and Ready to Mingle button on his site. We called it the SRM table, leading up to the wedding.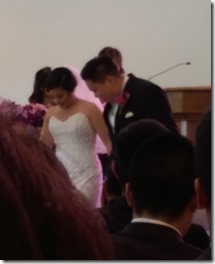 The wedding was pretty fun and exciting. The microphones had feed back a couple times while derrick was giving his vows. So we were joking that what he said didn't count. It was really weird how there was so much random feedback.
What is really funny is how during weddings, people are dressed up so nicely that you sometimes don't recognize them. I was coming out of the restroom and ran into bonnie, and she looked really different, but I still recognized her. However, Sherri didn't recognize her, and thought I was just making up a name for the girl that just walked by. It was later when bonnie wrapped her up that she realized who she was.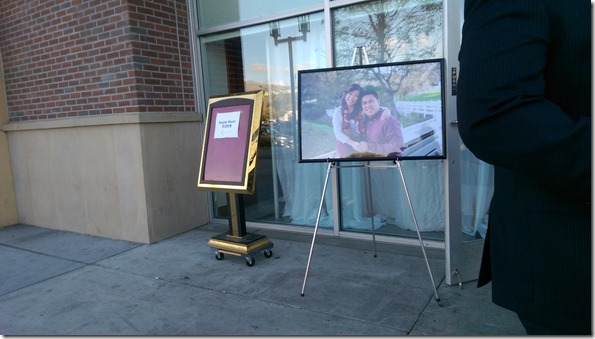 I actually went back home after the wedding to rest up for dinner. The dinner was held at Asian Pearl, which was pretty nicely setup. They put up all these fabrics to give the place a more elegant feel. Which I really appreciated. To me, this looked really great, I'm not sure if the girls likes it though.

We sat out the couples, or pairs table. I was with dbo, dorcas, ealeen, dayeen, chengjou, jomei, jaime, and I think it was sherri, and I.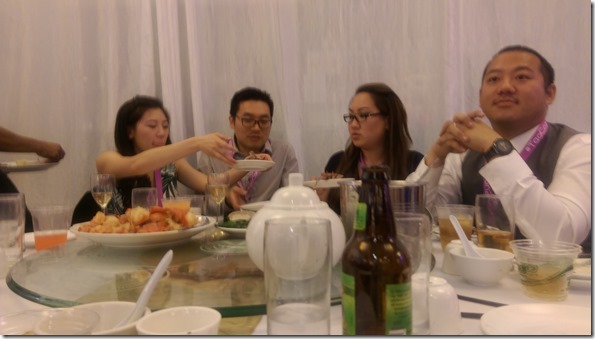 The theme of the wedding was "Tao Con" the conference for Derrick Tao. So we all got these purple lanyards.
The dj was also the MC for the night, and I think Chosen gave a really fun speech. It made me laugh and was full of innuendo's. The Derrick Tao 10000, like it was a software being installed that night.
There was also a really fun wedding game, it was a seeking game , and they chose the tables with the most athletic and fun people Where you had to find this item and then run back and sit down on your chair. Stuff like a sheet of toilet paper, a coin older than 1975, a rubber band. All these funny things. It was a really really fun game, and chengjou on our team almost won it all.
Happiness pictures, Sherri in her pretty dress, and Jaime in her pretty dress too!!!
There was also a lot of dancing at night, it was a really small dance floor, so everyone was more like a sardine. Some drunk guy threw down a plate and got cake on me.
I just went to the restroom and washed myself up, so I was good really quick.
I would say this was a really awesome wedding, and I enjoyed it fully. I hope derrick and Paula have an amazing life together, and that they will come over and hang out with us more, since they live really close now.