So Chosen put on a really good bachelor party for me. I loved all the stuff he chose and what we ended up doing. We were living in downtown SAC at the holiday inn.
The first night we all just arrived and ate dinner at a local restaurant. The restaurant that we went to was having a soft opening, so they had 25% off all their food, and their menu was filled with a lot of random items. I think we ended trying everything on the appetizer menu.
Then we ended up at an arcade bar, trying to play all the arcade games. I think the games were pretty fun, Neil is a beast at Blitz, and Chosen is really good at Marvel vs Capcom. Too good.
On Saturday we went rafting. Chosen booked too late, so he was on a different rafting company, they started 1 hour earlier but we ended up finishing at around the same time. He might have finished maybe only 5 minutes earlier.
The rapids were okay, it wasn't the craziest I've seen, so we had to paddle from rapids to rapids. However the rapids were really great! I really enjoyed bonding and just paddling around then jumping into the water for a really really cold swim. The water must have been around 60 degrees, and with the weather being around 100, the sun did not warm the water up.
Our raft guide was pretty funny, he tried to tip us over in our own boat, it took him a couple times, but he did get us over. Hahahaha, I liked that. Also, since we were a boat full of guys he made us do some crazier things like all stand up through a rapid. Overall, I really loved the trip and enjoyed the guide a lot.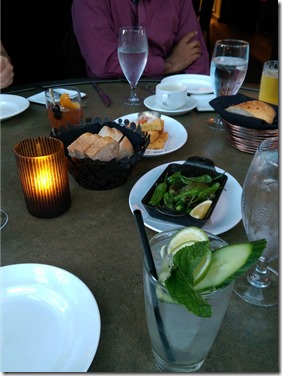 For dinner we went to a nice restaurant. It was really awesome to hear encouragement from my friends. There were a lot of really nice words said, and some funny ones too. My friend Brad said it was super awesome hearing all these great words, but the annoying part were all the hookers walking on the street right behind the window we were sitting at. I was facing in, so I didn't see what was happening outside.
We ended up eating all food, then we went bar hopping. There was a dive bar with mermaid and mermen, k-bar which was really ghetto (some girl grab/pinched my butt 3 times as she walked by me) , and they wouldn't let pedro in. Blackbird which was a decent bar, but no one inside. Then there was pizza rocks a pizza parlor with a dj and the diesel girls dancing at the pizza place. Hahahah, it was super funny seeing the girls dancing to alt rock songs like nirvana. It just seemed out of place. I took a lot of shots of adult beverages.
Then Sunday, we were all tired out, and neil and brad left at 10 am, while the rest of us went and had breakfast at a mexican breakfast place.
Overall, it was a great bachelor party, and was exactly what I wanted. I wish I could have invited more guys, but I didn't want Chosen to have to work so hard to find guys, and figure out all the logistics. Especially, since I wanted to go bar hopping (instead of clubbing)