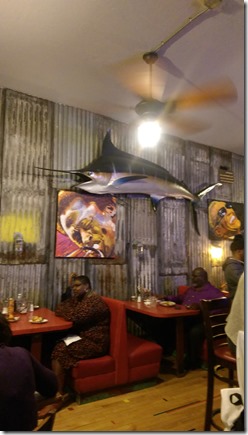 I wish I had not played too many games on my phone, but I did, and because of that. I don't really have any pictures for tonight.
It was a pretty rainy and cold night, but I had bought tickets to go out to the city to watch a band at bottom of the hill. I try to put in some outside time because I have been helping my dad a lot. It is so tough helping him out. Mostly because they have a lot of demands like a baby, except you can't carry them around with you while you walk.
Anyways, we went out to the city, and bottom of the hill is in SOMA. Initially we wanted to eat at this one hipster bar, however, there was a huge birthday party there. So we went across the street to a soul food restaurant called Hard Knox Café. It was pouring rain, so I was hoping that most places would not be as packed.
The catfish was good, everything was really good except for the meat sherri got. I think she was hoping for a different flavor type of rib, but it tasted more like stew.
Then after that we watched stuff in my car while we waited for the doors to open at 9:00pm. the doors took forever to open, and it was cold and rain was dropping on us outside as we just stood there waiting to get in.
However once we got in, it was super nice inside.
We watched 2 of the bands, first band called "vista kicks" seem to have only one sound in all their songs. The second band "Machineheart" was the one that Sherri and Chosen came to see because they liked her song when we were looking up bands. Her music is really happy, and she has really good stage presence. Especially loved the way she moved the mic around, and hung it on her neck and shoulders.
Like all really small venues, the band members once they come out from the greenroom, they chill with everyone else inside. So Sherri and Chosen were instagram/facebook stalking machineheart's lead singer. She happens to walk by and sit on a bench behind us. However, sherri is too scared to go and take a picture with her. It was super funny, so I hope one day machine heart because really popular, and I can tell sherri that she could have had a picture with her.
Overall, it was a really good show, I was tired so we didn't really stay too long for the last band, and went home.
I love going to the city, I think I must be a hipster on the inside!!!