Yaya, another fun year of Maker's Faire. This year, I took only Sherri, because none of her friends wanted to come. I guess I also forgot to invite my friends to it. As for the maker's faire, I just paid 20 dollars to park at the parking lot because I got there late.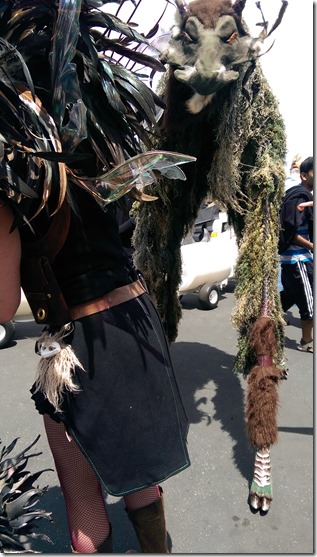 So this walking weird animal just has a guy inside with stilts on his hands and feet walking around. Just if you wonder if it was robotic or not.
There is always a good steampunk following there. Sherri loved it, and she took all these extra pictures for her roommate.
There she is with a picture of the motorcycle guy.
I took a picture in the "gypsie land", I thought the bikes with those llamas face were pretty cool. So you just press a button and the mouth would open up and down as you biked around .
There was this traveling tavern box
There was this thing were you would try to give a high five. I could only reach the 2nd from the right. I did go for the 3rd one and I missed badly. I have no hops.
Time to work on the vertical leap.