Today was a very happy day for my best friend Edris. I was super excited to find out that he was getting married. I just remember eating dinner with him in december and he was telling me that his mom was working on getting Cassie an engagement ring. I didn't realize that they would be married that fast, because i didn't know they were engaged. It was nice that his wedding was early in the season, so that i was able to go and enjoy it.
I was only able to go to the wedding by myself because Sherri was sick with a sore throat and could not go at all.
The wedding was help at Edris's aunt's house, because that was where edris first met cassie. I have only been at that house once, so i knew it would be a very fancy wedding.
Vinesh and I drove to the wedding, and the Edris's aunt house is on a lot that is on a small private road off of one of the residential areas. Initially, Vinesh and I drove to the wrong house, because we didn't see that private road. It was only when we looked at the house addresses that it wasn't the right place.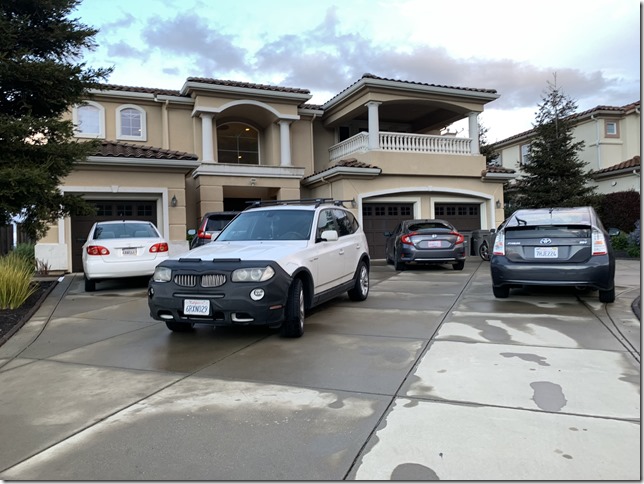 The wedding started at 6:00pm, and they had a private muslim wedding before the reception.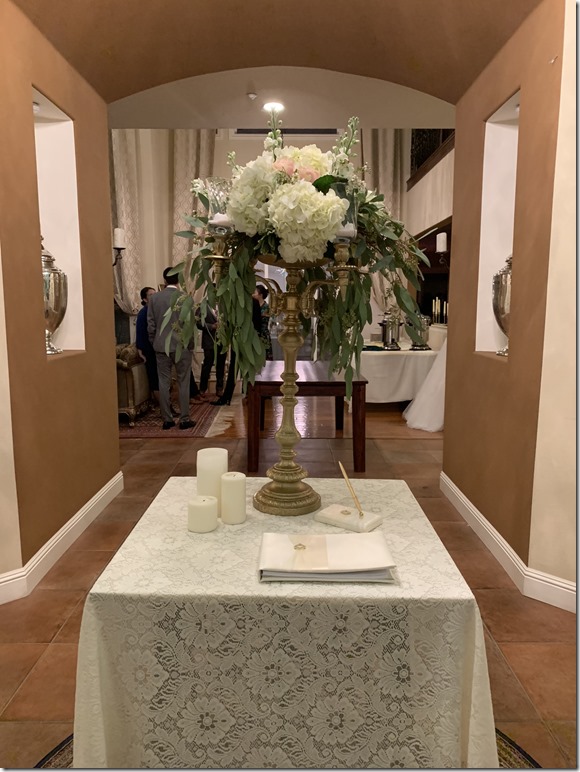 This was the entrance to their house, and when we walked in , we were very welcomingly greeted by Edris's mom and aunt. They were so nice, and they were just as nice as I remembered them from high school. The aunt that owned the house was the one wearing the nice yellow dress, and Edris's mom was wearing a black dress.
Here are pictures of Edris taking family photos with his family.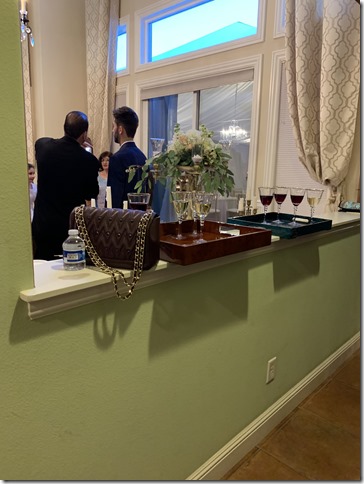 While we were waiting for the dining area to be ready, we were drinking a lot of wine, and random appetizers. It was so good, and the servers that were working at the house were working really fast because whenever i put a glass down, they were there to pick it up.
Edris really loved his high school friends because if you look at the table locations, we were right next to their couple's table.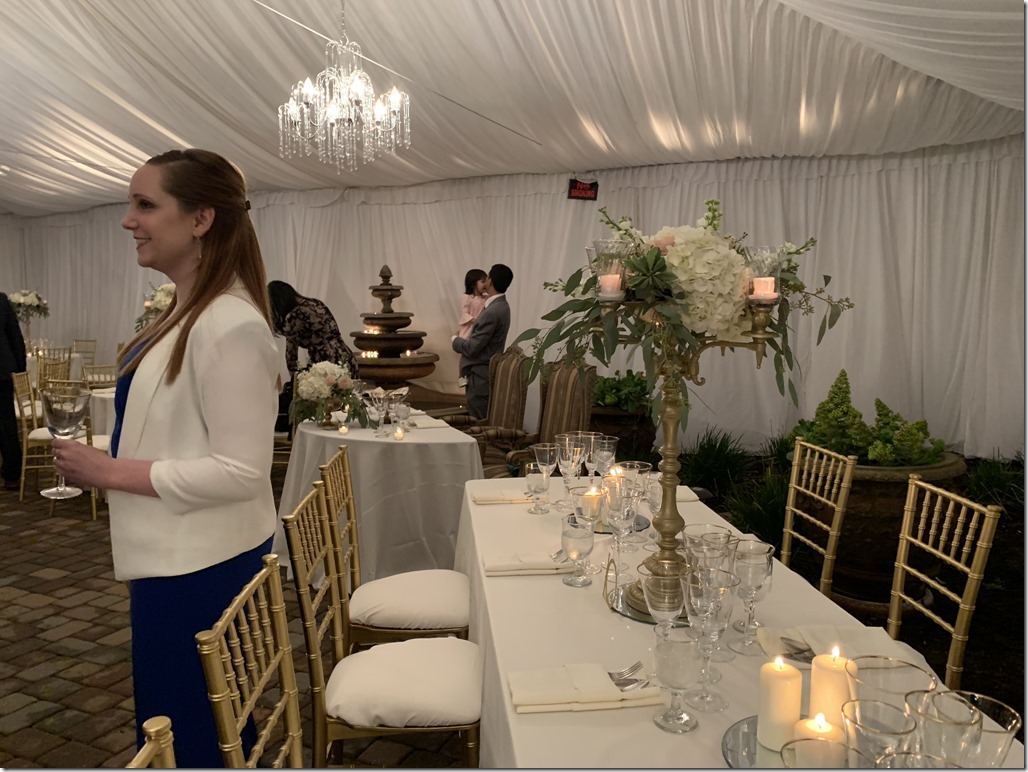 Here is where i was sitting, the lady is standing in front of the seat i was going to sit in. In the back is Fez, who was edris's roommate in college. I met him a couple times and it was pretty fun hanging out with him.
The really nice thing about the backyard dining tables was how they had so many heaters warming up that tent it was a cozy 73 degrees inside. And i could not really hear the heaters blowing in the air, and the outside cold wind was not blowing in the tent.
Here is a picture of the lovely couple right after all their jewelry was presented and before our food had come out.
It was a very traditional afghan buffet dinner. The chicken, beef were amazing. It was so good, that i want to eat more afghan food now.
This is the other Lshape side of the backyard which leads all the way to the bartender. Edris wanted us to drink so much, I must have had 7 drinks last night.
Then during the rest of the night i meandered around and we ended up talking to Edris's dad. That guy is so happy and gave all of us High School boys a kiss on the head. He was telling us how wonderful it was to finally meet us, and telling us how special today was for him. Edris is just like his dad, and was so welcoming.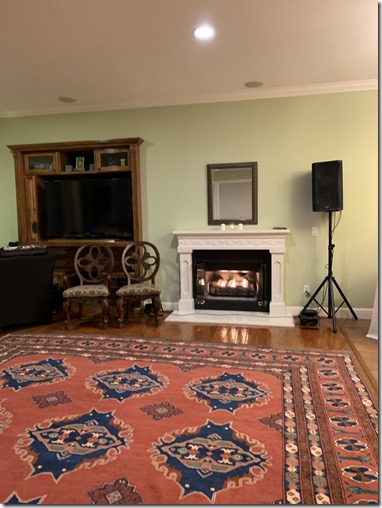 The family room was cleared out and turned into a dance hall area. It was really lit when we started dancing. Like a lot of dancing with non-white people, the dancing was amazing. They were playing a very good mix, i think edris said he used 90% of the songs from Sherri's list, and added all his own music to it. Since a lot of Edris's cousin came from germany, they played a lot of popular iranian music.
One of the interesting things was when i was talking to Vinesh and we were trying to figure out who was related to Edris and who was related to Cassie. It was actually really easy to tell the difference. All of edris's family were the ones in the super skinny/fit suits that were hugo boss/armani. I would say they looked much cooler than Cassie's relatives.
Super fitted suits were the big thing.
Here was the desserts that they served. It was a lemon/ginger tapioca type of dessert and baby cupcake.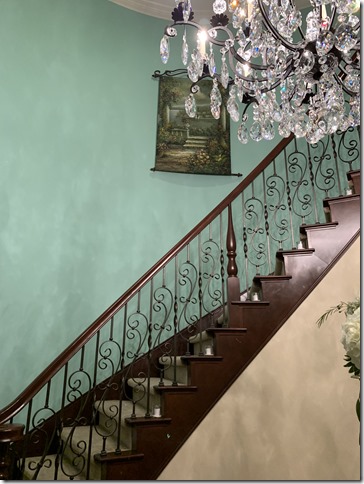 Here was a picture of the stairway with the artwork. This was stuff that made Sherri really want to go.
Overall, this was a really well done wedding, and super fun. Edris and Cassie looked amazing, and I an really so happy for both of them. They also told me that I will always have a room at their place.