So I have decided to work on my house and with my parents leaving, I have decided to repaint the kitchen. The good news is that I don't have as many cabinets as I thought I did.
Why did I want to repaint? Mostly because I didn't like the dark color of my cabinets, looked so old and dreary.

To start off first, I decided to put a magnetic wall on my cabinets. It was a good idea, except I didn't know how to paint it correctly, so the wall at the end didn't really turn out correctly

.
The cabinets are darker than they appear.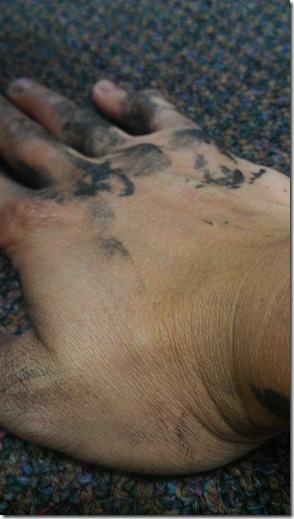 This is the black magnet paint, that stuff is so strong, it took forever to wash off my hand and my sink. So I ended up scratching my sink, trying to get all the black magnet paint off.
I thought this would be a quick job, however, it ended up being a 2 week job. Trying to get it finished before chosen moved in.
I started on this project on a friday night.
So after 2 days, I was able to paint all the cabinent edges. It was a good thing I had really strong primer paint, because I didn't realize I needed to really sand down well. I ended up just putting on a lot of extra paint, and adding cushions to the cabinets so it would not end up scratching the paint off.
How do I feel, I realize that if I ever want to paint again, I am paying someone else to do all the work. It is worth it, but I did enjoy working on the kitchen. A hard done job.