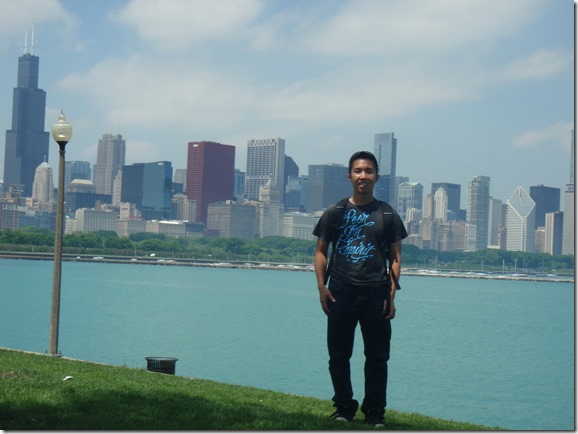 The first full day in chicago, I decided to go visit a couple museums. It was the adler planteraium, field museum, soldier stadium, and everywhere in the museum campus.
I took the bus to the museum campus, but since I got confused, I got off at the wrong bus stop, so I ended up walking 2 miles to get to the spot. It was another nice warm/hot day, I was dripping in sweat by the time I got to the planetarium.
I have no idea what this statue was, but I thought this meant I was close to the musuem. however, I still had to walk another mile to the spot.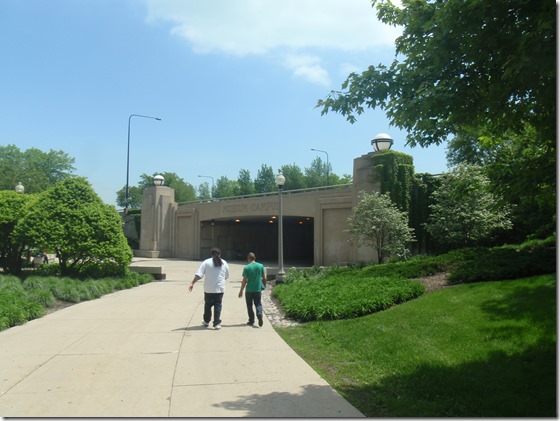 I finally reached this spot that welcomed me to the Museum Campus.
That was the view that saw when I turned around. The other thing I noticed a lot, is that there are a lot of people who run. Every couple of minutes I ran into a new batch of runners. My friend did say that a lot of people in chicago loved to run even in the winter.
I decided to walk to soldier field first, before going to planetarium and then field museum.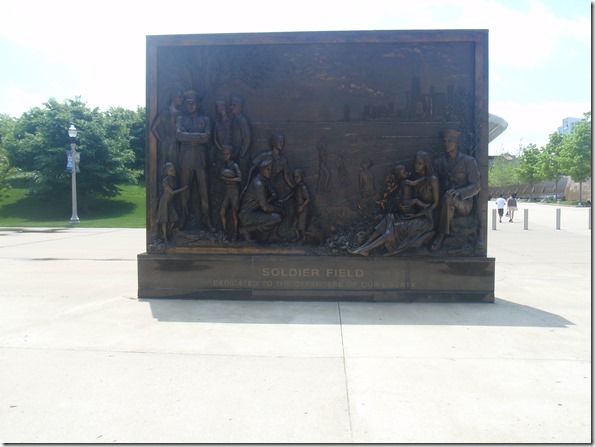 Now it makes sense why it is called "soldier field". The stadium is made as a tribute to all the soldiers.
That is the stadium below, it has a pretty cool entrance too!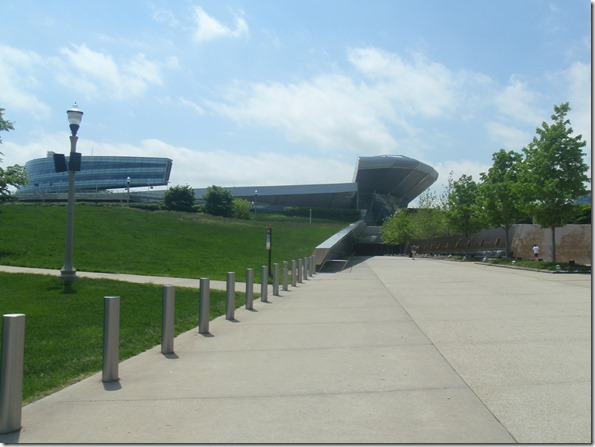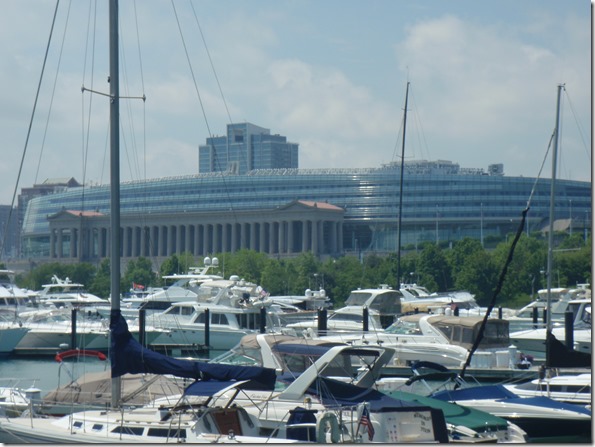 It is on the lake, so it smells like fresh water.
None of the SF fishy smell from salt water.
I did talk to a couple guys that were just sitting there fishing.
Then walking around the field, you saw all these "soldier theme parks and names"
I was hoping that there was a bus that would take me from soldier field to the adler planetarium. However, after waiting 15 minutes, I didn't see any bus come. So that is when I walked the 1 mile to the next stop.
Tada, there is another runner in the picture.
There is the adler planetarium, there was one thing I remember from this picture. There is that couple in front walking, the guy in the backpack and the girl. Her dress was so short, it was like she was a tennis player and their dress shorts. You could see her butt cheeks when she walked. I didn't look too long, but it just amused me.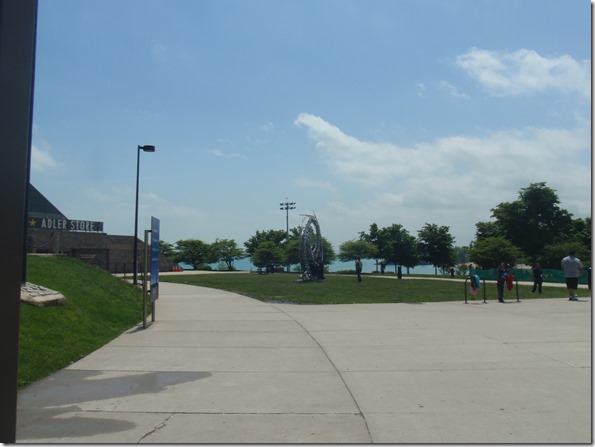 It was some weird looking artifact that the elementary school children loved a lot!
So many buses, so I got to see what bus drivers do while the rest of the kids are on the field trip. Just sit there read a book.
What did I think about the adler planetarium? It was pretty boring, didn't really seem to have anything really interesting. Maybe it was because I love telescopes to look through, and they didn't have any over there.
As for their exhibits, it wasn't that exciting, but I am happy that my Chabot Space and Science Center let me in for free (reciprocal membership).
This was a command center replica of the houston command center, with videos of the project mercury launch.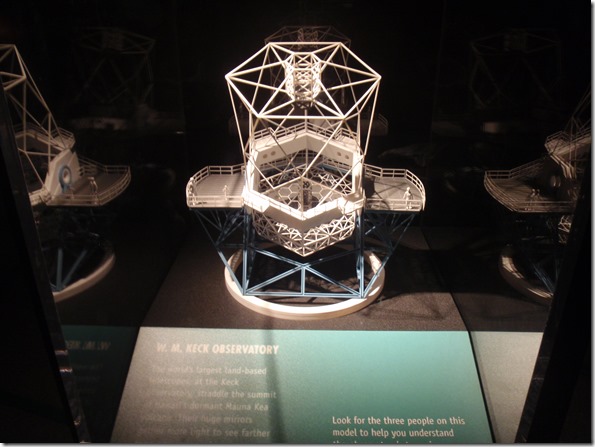 They were showing a size of the observatory compared to people. This was one of the only few good pictures I got.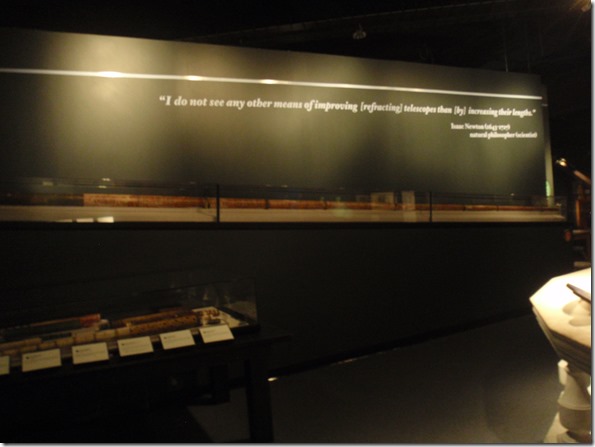 Look at this really long telescope.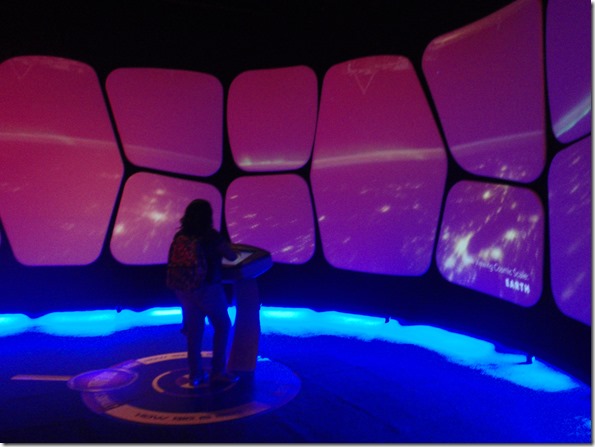 This was a pretty cool screen setup for looking at a simulated star system. If I could make a room in my house look like that, I would. I would want a huge touchscreen, a la iron man, or bruce wayne computer.
There was this really dorky shirt that I had to take a picture of. All you awesome nerds rejoice.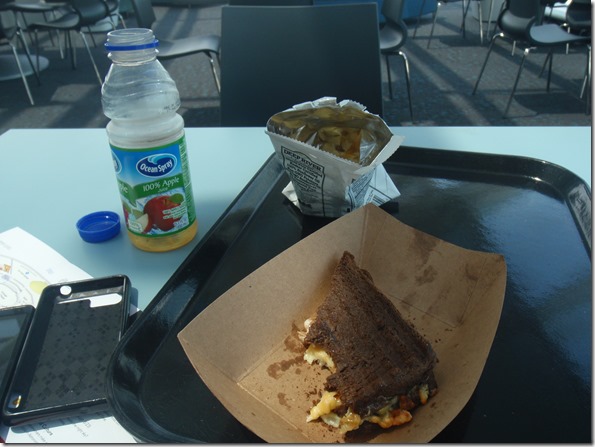 That was my lunch I had, It was some type of cheese onion dip melt. How do I choose what to eat at a food court in a museum? I usually go for things that don't look like something you could pop out into a microwave. So thinks like a pita pizza, the people usually burn those. So sandwiches or anything that they have to make fresh has the best chance of being good.
I would say, the cheese onion dip melt was edible, which means I finished it.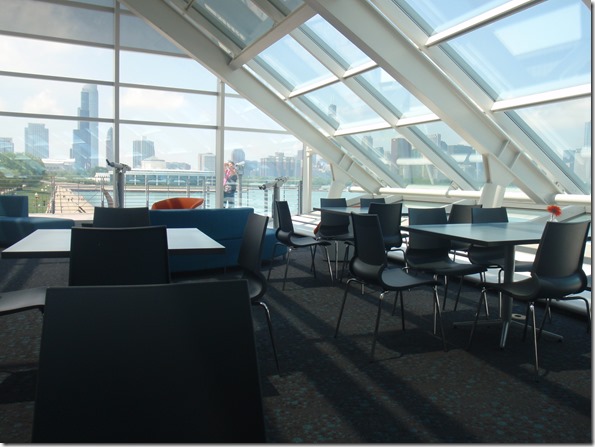 This is the view I had from the lunch room area. I guess this is not part of the museum, but a general eating place in the planetarium. I saw a lot of random people that worked in the other museums or close to this area eating there.
Gorgeous View from there, So as you see I have all these other pictures.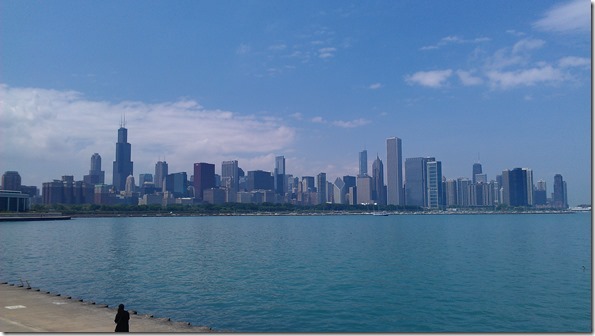 More Pictures
Cool Views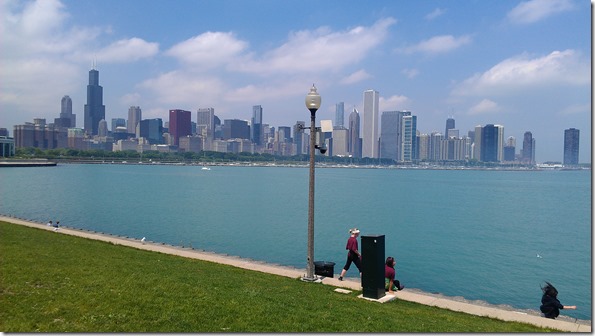 As I continue to walk, I go past the aquarium.
they have these little parks around the area also.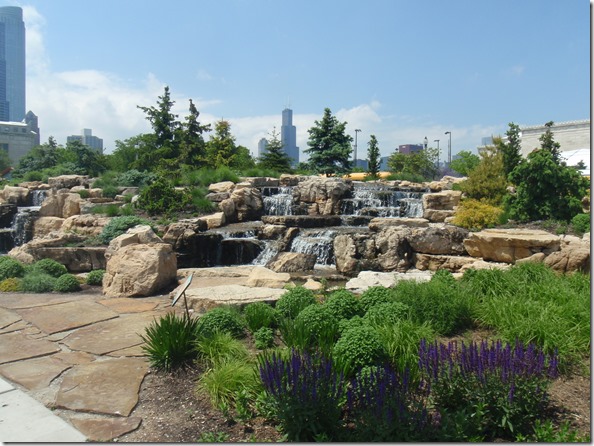 Here is the Natural Field Museum. They had 3 popular exhibits, one was called "illumination, bugs of the night" , there was "lascaux: art of the prehistoric", and there was a "bug world", where you were the size of a bug.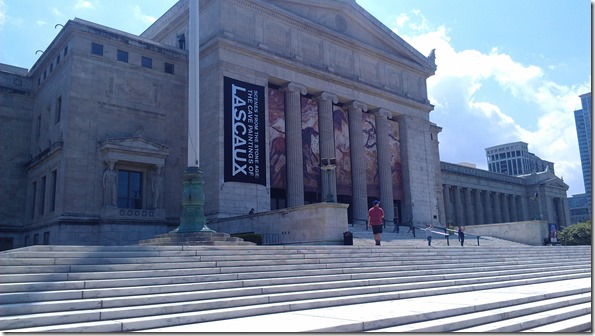 I took a picture with this dinosaur named "Sue". This really nice old couple took the picture for me.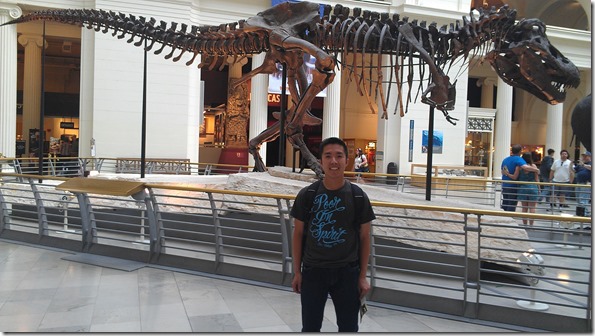 The main floor.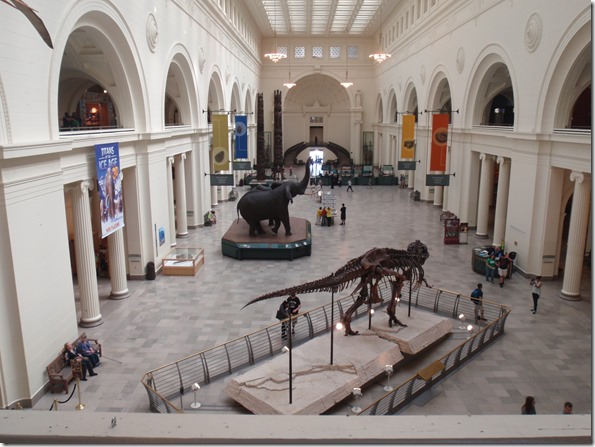 There was an exhibit of all the animals, like birds and other stuff.
My favorite cat, the leopard. Still my favorite animal of all time.
Dinosaurs
Egyptian
Since the blackhawks were in the playoffs, they were showing their chicago pride at the museum on this dinosaur!!!