One of the things I had planned to do today was install a new exhaust fan for my mom. Since she is always at home taking care of my dad, she doesn't really have that easy of a time taking care of him. I'll post about that one day.
She is really sensitive to sound, so a loud exhaust fan is really distracting to her. Because of that , my dad and I bought a new vent and I was in charge of installing it today.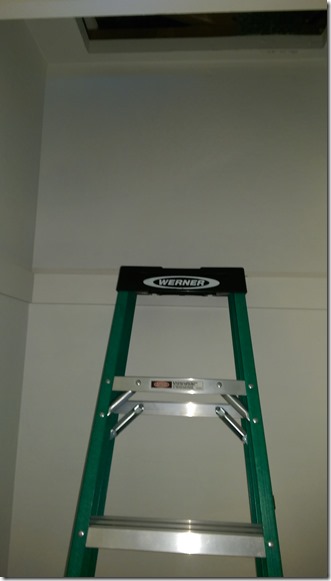 Going into the attic during a heatwave is terrible.
It must have been a good 90 degrees up there, with no ventilation or anything.
When I first got up there, I had to orient myself to the way the house was built. Mostly because there were all these trusses, and the slope of the roof made it hard to get around to different places. The most important thing I did not do the first time I was walking around up there was wearing a facemask and eye protection. I did not wear a facemask, and my throat got destroyed by the fiberglass foam insulation. After walking around for 20 minutes, my throat hurt, and my eyes were ultra watery.
I went up and down a lot that day. I cut my head against the roof a couple times, because I was wearing a headlamp, it made me think I had a helmet on. The way roof shingles are installed, they are just nailed through the roof. For this house, the roof was really low, so it felt like I was doing parkour through the whole building (cat crawl).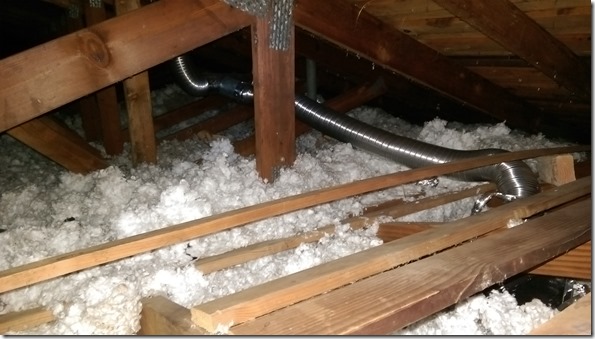 Everything was going really easy, I didn't notice any problems when I was up there. The wiring was fast, adding the brackets were easy.
Here is me wiring it up.
This was the original vent that I took off. I had to remove all those wood nails (the golden/brown thing)
As I climbed down my ladder I went into the room to test out the vent. Then murphy's law hit me, I' walk around my parents room and there is no power. So the first thing I did was check to see if any of the circuit breakers were tripped. However, nothing was tripped at all.
I then spent the next 3 hours tracing(following) how the wires were pulled in the attic. It was pretty hard because there was so much insulation in the roof so I had to push it around to find the wires.
Finally, I figured out what was wrong. I have a GFCI Outlet in the master bathroom (GFCI means that it will pop to make sure that there is no water short circuit in the bathroom) That wire would go from the bathroom into the master bedroom,. So when that GFCI tripped, it stopped all the power to the rest of the room.
Overall, today was a very fun/successful day. I got really frustrated when the power was off and super worried that I wouldn't be able to figure out how to fix it. But with a lot of prayer, and persistence, I got it done.