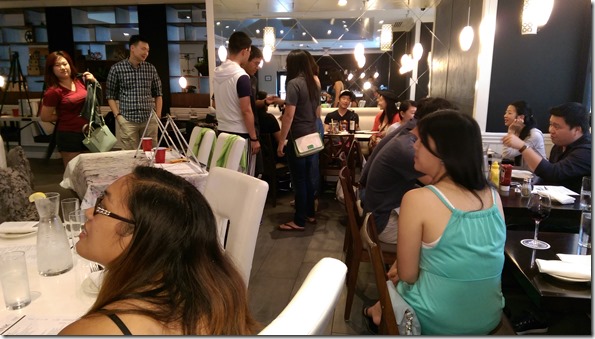 So today after church, we went to celebrates Karen's birthday. It was really awesome of Calvin to set it all up. We reserved our own PaintNite https://www.paintnite.com/. We had a really awesome instructor who taught us for tonight. Willis was awesome https://www.paintnite.com/pages/artist/view/alameda/1800 That is him. I would recommend him.
How did the night start out? I carpooled with other people from Union City, we got to the san jose restaurant at around 5:10. Ordered food, and most of us started eating at 5:40, and painting did not really start until 6pm.
Look at all these fun people, just chatting and talking while we waited for the food to come. The food took ridiculously long to come out, but the good thing was that it tasted good. I got a flatbread pizza. I'm trying to lose weight so I have been more concious in what I order.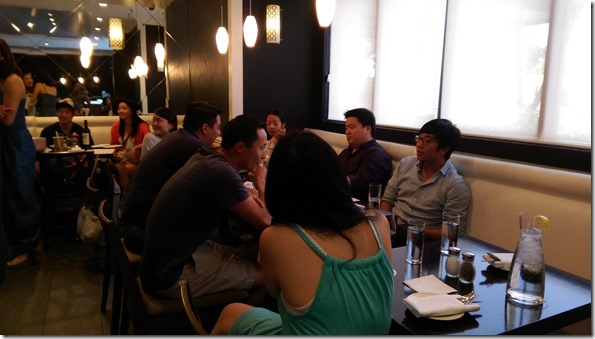 I saw kristy esporo there, it is really sad seeing her in that condition. I wish there was more I could do…. you can see her blog about her condition. Karen and everyone from church really http://kristyesporo.blogspot.com/ with stuff like cancer, I have no idea what to say to people like that to help them feel better. Especially when the cancer is looking to be terminal. …
As for Karen's birthday present, I bought her a really cool looking black painters cap (looks like a thin black felt beret). I just went back to look on amazon painters cap and it was wool. That is why I thought it was cheap felt.
Karen absolutely loved it, and wore it fabulously until we started painting (so it would not accidentally get paint on it)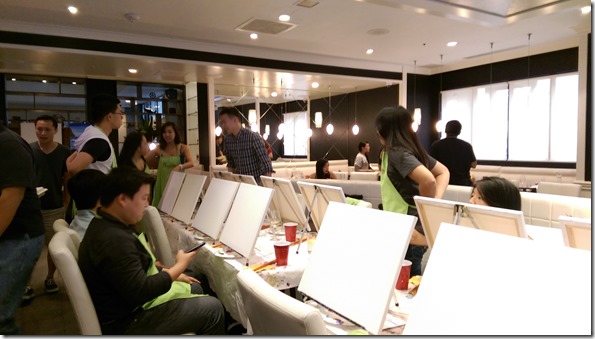 Here is us setting up for the painting. We all dressed up in nice green aprons. I took a big gulp of my alcohol to loosen me up for the painting that night.
Fun Observations of the night:
– Pedro having to take friends to the airport, so he started speed painting, and finished his painting in 1 hour (the sand looked more like a sun, because he thought it was suppose to be the reflection of the sun)
-Alan and Chosen were ribbing on each others drawings all night
-ALau had really awesome waves, and did a very simple shading of his rock formation, that everyone loved.
-Karen's painting was really good,
-Sherri's painting looked very cell shading ish, like I was watching an anime. Her rock looked like a gum wall.
-Our instructor was having an awesome time bumping his music and just chilling and teaching.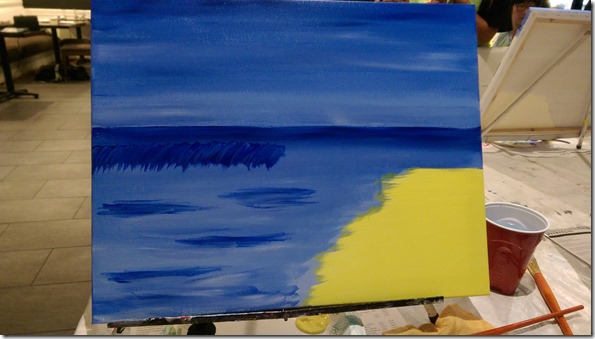 We started off with a blue wash for the background, and left the sand open. Then after several more washes of blue, we put in the sand.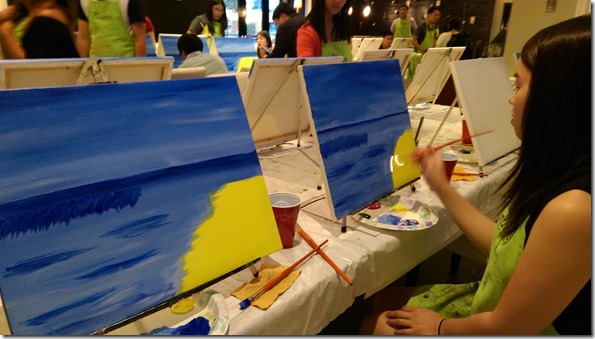 I sat next to Lisa, because Sherri wanted a better view of the painting. To me it didn't matter because I knew I could paint anything. I enjoyed looking at lisa's painting, and helping her when she needed help. I also randomly walked around drinking so I could talk to other people.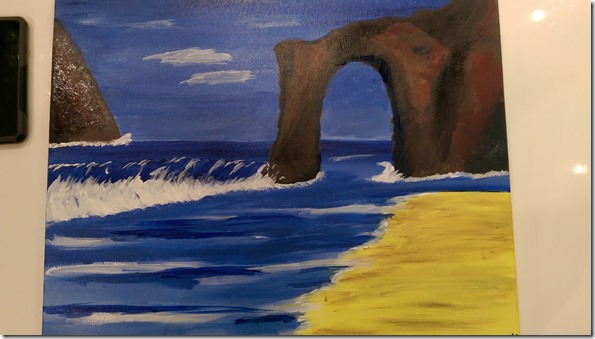 Our instructor had a really fun description of making rocks. He went "lets get some color in here", so added all these random red, yellow, and a hint of blue to his colors.
Here was the winning painting for tonight that our instructor saw had the most emotion in it. hahahahah, all the destruction was fun.
At the end of the night we ended up dancing a little bit when we changed the music to salsa and started dancing while the cake was being cut, and people were finishing up painting.
I loved the art, and it makes me want to do an art thing for Sherri's birthday, I hope I can do it, but it will be interesting.