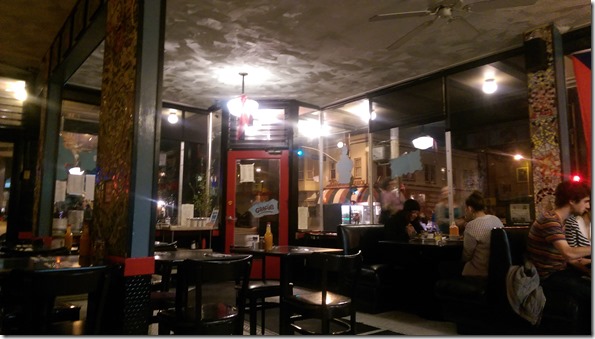 So one of the things that has been happening at work is that I am getting burnt out. I don't like doing control drawings, and it has been making me sad. So I tried to tell the manager, and I guess he figured out. However, I'm not sure if it is too little too late, because I don't really like the office enviroment.
Anyways, it meant that on saturday I woke up and spent 4 hours trying to help my project manager get a quote out for his job by monday. So I read the project a little bit, and then started trying to generate a quote based on what I think it needed. The hard part about the project was that there was no info on it.
So it was a little bit of a pain on my butt.
After that, Sherri scared me, and then I got dizzy. So I have not been exercising much. Mostly because I am waiting for my head to get better faster.
Around 5pm, Sherri and I took Bart and we met Joe and Frances. Since I am not good at counting trains, I told them I was on the 2nd, 3rd, or 4th train. When in actuality I was only on the 2nd train. Good thing Joe saw me pointing at them outside.
I think the last time I went on a date thing was last year, when we went to an improv show.
So we first got to the city, and tried to make reservations at Baretta. However, their phone system was not working, so our reservations were never made. With most of ust being hungry, we ended up going somewhere else. We tried to weekend pop up restaurant that served cuban food. Parada 22.
Here is a "candid" photo, because Frances saw me randomly documenting with my phone for my blog. Then they had a real picture.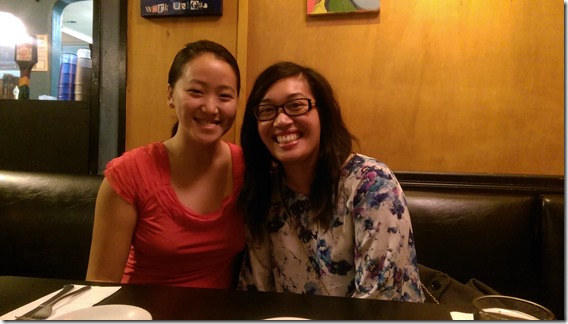 The food was pretty good. Since it was our first time here, we asked the server what to eat  and he recommended the
-PASTELON 15. Sweet plantains layered with picadillo (spiced ground beef with olives, raisins, peppers and onions)
-POLLO A LA CRIOLLA 15. Marinated boneless chicken sautéed with a hearty smoked ham sofrito.
and
-MOFONGO DE CAMARONES 16.5 Mashed green plantains with smoked ham-mixed veggie sofrito & camarones a la criolla.
So checking our wallets to make sure we had enough cash for this cash only pop up restaurant. We ordered the above, yukon fries, and a picture of sangria
All the food came with mexican rice and this red beans (meat and beans). So we went family style on it. We ended up really loving the beef, and the chicken, however we did not liked the Mofongo. It was mostly the mashed up plantains, which gave it more of a potato/yam like eating experience with no flavor. So I ended up eating most of that stuff, because I looked at it like carbs.
For the rest of the night, Frances and Sherri thought of the word Mofongo like a bad word. It was funny watching them laugh everytime they said that word like it was a bad word.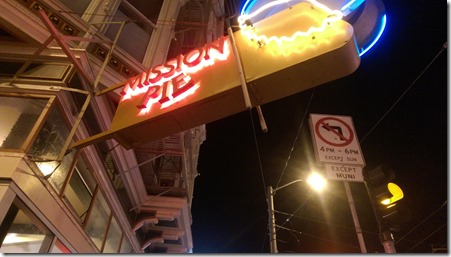 The nice thing about the mission is all the food. So we ended up at mission pie for dessert. I got the peach/blueberry, and Joe and Frances got dutch apple. That was a really delicious pie.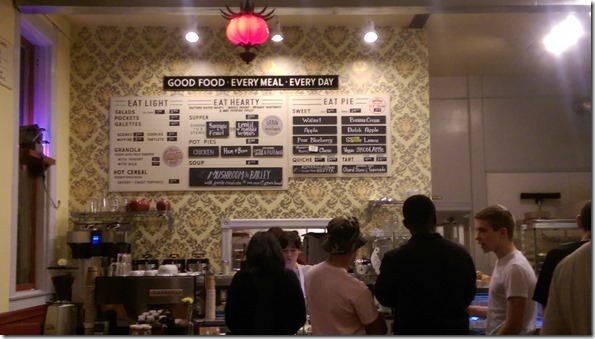 Couple photos 1:
Couple Photos 2: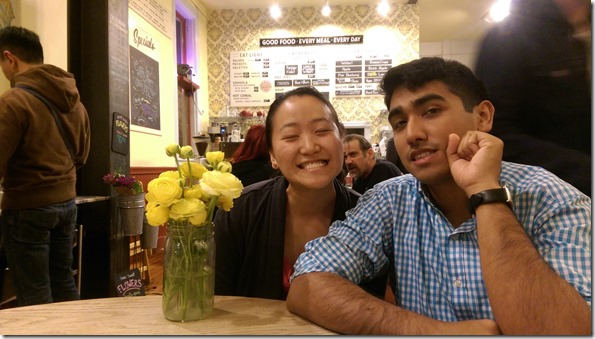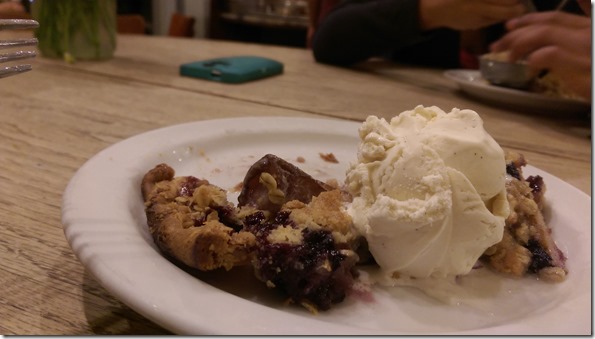 Here is the prettiest picture I could take of my pie. It was after we had eaten half of it. So I spun it around and took the picture from the other side. If I was on cutthroat kitchen, I would call this a "de-constructed pie". Because my pie is all in parts.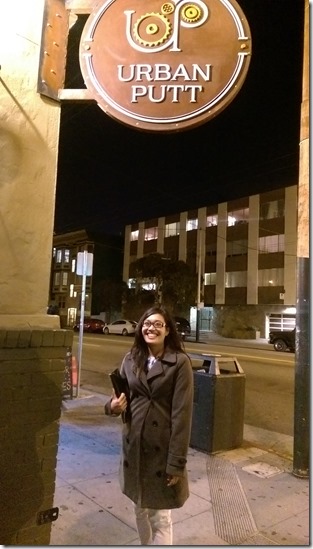 Now for the highlight of the night. We made it over to urban putt. Which is a mini-golf stuck in a house. So the bottom is the golfing and drinking. While the 2nd floor is the restaurant. It is a quaint little place. The drinks are good, and the place was very lively.
It was also japanese anime theme night. So there were people dress in anime girl dresses. I was standing next to a guy in a doll dress. I did not know what to think (mostly because he looked terrible in the dress) …. I actually tried to think of the best excuse for him. Maybe he was trying to impress one of the girls in the group he was hanging out with. Then I would give him mad props.
However, I didn't think that, because he didn't really seem as in to it like a man on a mission would be. So my second thought was "he must love anime" … so so much.  
The place is pretty small, so it was only a 14 hole course. And they have some random hole ideas. Like they have a video game screen for one of their holes.
The one sad part of the night was that Sherri didn't have her DMV License. It was terrible because I remember asking her before we got in the car if she had her license. And she told me that she did have it.
Guess what happened … I guess it wasn't in her purse, however we were super lucky and the lady at the door said no drinking to her, and let her in. With Joe vouching for her, and being threatened with lifetime ban from urban putt.
The line was around 35 minutes. So Frances and I drank and waited for our turn (Sherri did not drink to let you know), too bad we couldn't drink on the course, so I had to chug my drink. Frances just let her's melt (she had something with an irish coffee with ice cream cocktail)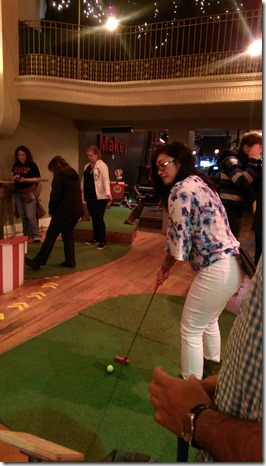 [youtube]http://youtu.be/b7CnloS605s[/youtube]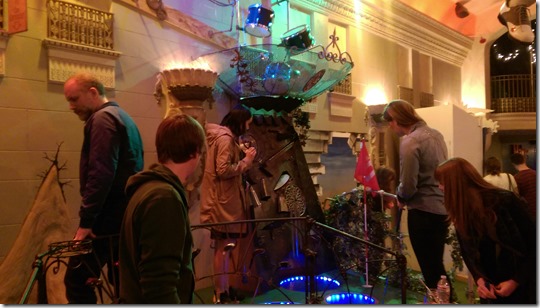 Crazy Face Time
Funny angle shot of me, just to make sure people knew I was there.
This was a pretty easy hole. I think we should have made people play one handed or do something to make it more difficult.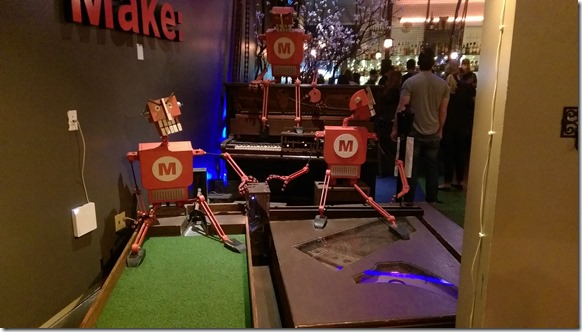 \
Hooray, Makers Faire.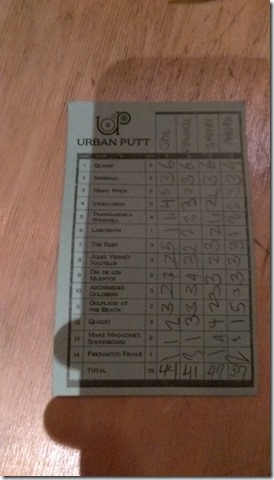 Guess who won? Meeeeee, I am mini putt putt champ. And I scored a 37 on a par 35 course. Which means I still sucked, and double bogeyed it.
Overall the night was exciting and entertaining. It makes a lot of difference who you go on double dates with. If the other people love talking and doing things with you, it makes it more fun. Unlike having people who might just want to go home. So I think we have some new words in our vocabulary "Mofongo" is our clean dirty word.
It was nice hanging out with Joe and Frances and seeing them be really happy too. Seeing how they enjoyed their night, and how Frances ran into 2 of her co-workers/friends at the places we were at. It makes me think that if you have friends that think like you, it most likely means that they will be at the same places as you.