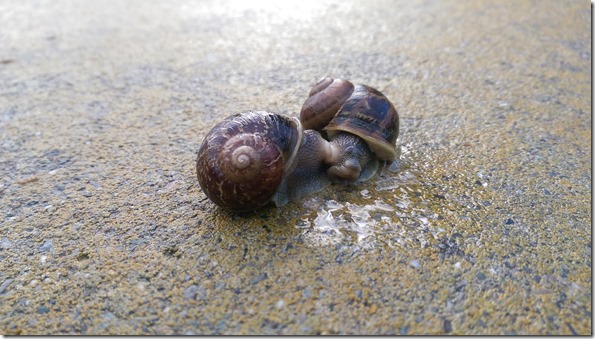 Walking into my parents house in the morning, I came across these snails making out or something like that. Or they could just be talking, and I thought it was really fun picture. So I uploaded it.

With all the stuff that has been happening with my dad, my mom didn't really remember her birthday. We have mostly just been busy doing things to take care of the house and take over all the stuff.
So my sister acdtually texted me to remind me that it was our mom's birthday. So because of that I started to make this card. It is a half "origami leaf card" with a flower drawn on it. My mom really liked it.
I also went to have Braziliian BBQ to celebrate Chengjou's birthday. I can't really eat that much anymore, especially since I have been working on trying to be healthier. So it was a strain trying to make sure I ate everything.
Then I came back home, dropped by ranch 99 and gave my mom the card and pretty mango mousse cake.