Before I get to the food, I will talk about what has been on my mind this whole week. It is still about my dad and how he has jaundice and pancreatic cancer. Because of him, I've decided to buy life insurance.
How do I feel about it? It sucks, and the scary thing is that I might have to be the man of the house (I can see how the biggest change in your life is when you have children). Where you feel like you have to take care of a lot of people now. Now I can understand why some people do not feel ready to step into a bigger role.
One of the ways I try to clear my mind is just go bike riding by myself. So I went out to coyote hills again.
For this weekend this is what I did.
Friday:, I hung out with Edris, and we just drove around Fremont talking about my dad, and realizing how we have had a really protected childhood. Where we have not had to face that many deaths or just extreme challenges.
Saturday: I hung out with my dad and begun cleaning the crap out of his house. Making it super clean for him when he goes through chemo.
At night, he had a "Chosen dreams of Beef Noodle Soup" Event. So around 12 people came over and we ate beef noodle soup.
It looked really good, and tasted amazing. Since Chosen likes his stuff spicy, there was a nice mild kick to it. I could eat this all the time, but the drawback is that it takes a long time to make it. Chosen spent all afternoon cooking the beef and making the base.
I also enjoyed the company of everyone that came over to enjoy his food. My friend Derrick has a pretty interesting ice breaker to get people talking. We all just give a one word trailer for how our day went, then we as a group votes for who we want to hear first.
My word was "leisurely", and for some reason it was not as leisurely as everyone was expecting. I got my blood tested, went for a 2 mile run, and helped my dad clean.
Sunday:
After church, I went to my dad's house again and did more housework for him. We were cleaning out the storage room looking for some stainless steel cannisters.
Then my dad needed the high protein ensure, so made me go to Costco on a sunday afternoon.
If you want to experience the DMV wait at a store, that is the time you go to Costco. I spent 30 minutes waiting to return the wrong "Ensure". Then I manuevered my way around and found a short line "15 min" wait. Instead of what looked liked a 30 minute wait for everyone else.
While this was all happening Cheng and Chengjou were watching the Hockey All Star game at my house. Then Cheng stayed to eat dinner with us. Then I realized what I find really annoying, when people say "TFTI". I don't like the idea that I have to invite you just because you found out that I will have something occuring at my house. I think it just makes people not want to put on events.
Some things are just too hard to put on to invite everyone.
Anyways, Pedro came over and made sopes. He had talked about it on saturday, and Kristina asked him to make it. So she made him teach us how to make it. The last time he made it was as a kid.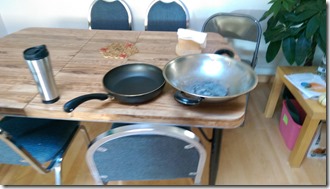 The prep work was intensive. He needed one wok to deep fry the dough, 1 pot for beans, and 1 frying pans for the meat, and 1 extra frying pan to cook the dough. So it was a full house on my stove.
Here is the funny event that happened. I guess he didn't realize that I have a random flat metal pan (covered in aluminun) just sitting on a random back stove to cover the heating apparatus. Why do I have it there? I have no real good idea, except that I think I can put cups and things on it while I am cooking. Anyways, Pedro didn't realize it was just a pan covering the heating coil, so it started to smoke when he turned it on.
Too funny! He was so sad that he didn't realize it, but I realized it right away because I could see all the smoke.
So here is the final product, It is a deep friend dough in a pie looking edges. Filled with bean, beef, this type of cheese, and sour cream (the mi pueblo makes it really good). It was super filling, the guys could only eat 3, while the girls barely ate 2. Pedro was commenting on how we ate so little…. then he ate the food and after 3 was really full.
It is really interesting to see how my house has transformed a lot over 2 years. Because 2 years ago, I had BBQ sundays at my house, so everyone could come over to eat. Then it slowly started to change to this watch tv and we make random food night.