The place was cash only, so I was sad when I ran out of cash, and didn't want to use the ATM. But there were some places that accepted visa, so they wrote "accepting Lady Visa, and Sir Master Card". However it wasn't that many places, but I did like how they called me "my Lord".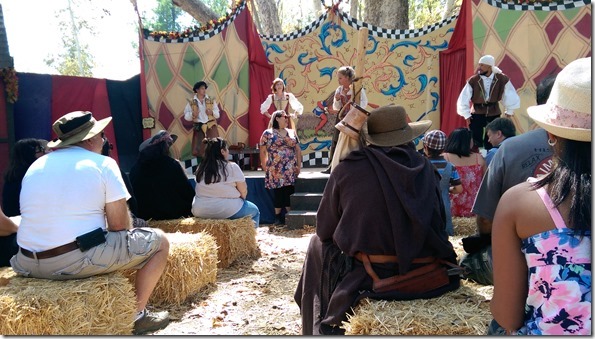 There were also renaissance improv actors. They had a really bad spot, it was kind of loud so some of their lines didn't come out sounding as good.
Then there was this show called "dirty laundry". It was a very interesting show. The ladies made everyone cheer because they had this towel that was their friend. If you didn't cheer loud, this wet towel would get you wetter. Hahahahahah. They also were like sex craved girl with her cousin. It was interesting.
They also had a queen of the renaissance faire, and she would stand there and her fellow servants would talk to her. It was like a big LARP.
I joked about how I saw gandolf out there.
To end the day at the fair, we watched a royal jousting. Those guys did a great job, a lot of good fighting action. I was cheering for Scotland. After that, Sherri and I went home, because we were super pooped from all the fun.
I went home to do some work, and sherri and I ended up having fish tacos for dinner, because of the fish I had caught on friday!