Since Jo-ann's birthday fishing trip was a dud, Kristina and I invited her to go deep sea fishing in the bay with us. We had to leave my house at 4:45am to get out to fisherman's wharf at 6am.
Kristina actually overslept, so at 4:40 am she calls me and says I should go pick her up. And Joanna gets to my house at around 4:55. We actually get out there to the docks by 5:55. Just in time for the boat to sail out.
There were some really pretty views of the bridge as we were sitting on the boat going out. I took this picture of the bay, it reminds me of a water color painting. So I'm thinking I might make a painting of it.
I wish I had taken sea sickness pills, because I actually got really dizzy. It actually made me super quesy, so I didn't fish too much. Maybe 1 hour total. I was mostly just sleeping in the room, and throwing up.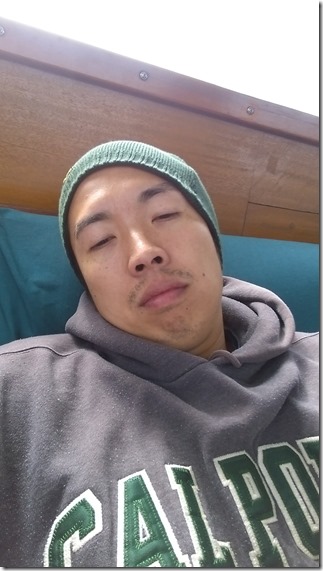 Everytime I threw up, I went out and was able to go catch fish. I had to stand at the middle of the boat. We started out with Salmon, and the 4th guy with us could not catch the only 2 fishes we had on the hook. The salmons just shook him off.
So we went to catch rock cod instead. That was so fun, those fishes were so hungry, throw a line in, and we would catch them almost instantly. We were casting our rods to the bottom of the sea and pulling up maybe 3-6 inches from the floor.
The girls also were able to catch a couple octopus that got stuck in the stomach of the fishes.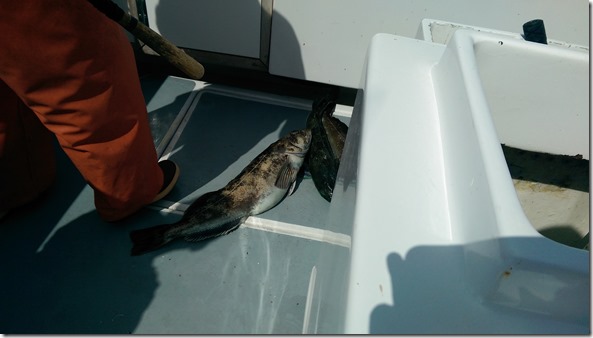 Here were some bigger fishes called "ling cod''s". We caught them indirectly, because they would bite the smaller rock cod. Rock cods were around 5-8 pounds, and the ling cods must have been around 20-30 pounds. To catch them, we had to slowly pull the line up, but in such a way to not pull it out of the ling cod's mouth. Then when the fish got close enough, we just scooped it out with a net.
At the end of the trip, we went back at around 12:30pm. One of the fisherman drove the boat, while the other one started to fillet the fishes in the back. It was really interesting watching him work, I think we caught around 65 fishes. 60 of them being rock cod, and 5 ling cod.
It was fun watching him fillet the fishes, because he would just throw the bones and head overboard. When he did that, all the seagulls would come swooping down into the waters. So for the last 3 miles of the trip, we had a huge tail of seagulls following us, waiting for a fish carcass.
So I actually felt better after getting off the boat for 25 minutes. So we spent the time walking around fishermans wharf to let me feel better. Then we went home and all slept really well.