Then we finished off our downtown Portland swing by going to Blue Star Donuts. I was told that it was better than Psycho Donuts. Mostly because Psycho Donuts is more touristy now, so the lines are longer.
Eric then had to go home to his parents, and we were off on on biking journey. The bike map I had, showed us going through the bridges in portland. So we were planning on doing a huge loop.
The first thing I did was make sure we took "bike friendly streets" which meant streets with less cars on them. And more bike lanes. It is really interesting how nice these people are in portland for bicyclist.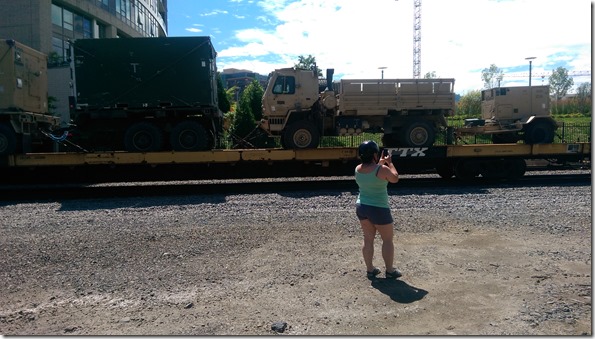 As we were driving down one of the streets to get to the bridge to go over the river, we came across a train carrying all these army equipment back. So we took a pit stop to take pictures.
What is really interesting about Portland is that it reminds me of San Luis Obispo mixed with Berkeley, and being in a warehouse area like emeryville or san leandro. So there are a lot of trains around here.
We get to the bridge and go across it. These places are super busy with 4 people bikes, and just a bunch of runners and rollarbladers. As for where we were going, I was hoping to go to the last bridge and then bike back over. However, when we got to the Tech Museum, I could tell that the bridge was under construction. So I told Jamie that we would just ride south a little more.
My ankles were hurting because I was wearing new basketball shoes, and they were not broken in yet. I had short ankle socks on, and it was rubbing badly.
We started to go south past the tech museum, then I saw a little bike "route" near the end of the trail. So I just started to follow it, went through a couple streets, and then arrived at this bike route. Since we had not really biked anywhere yet, I decided to lead us down the path for maybe 30 minutes.

Guess where we ended up?
a
At a mid summer fair.

It was super awesome, because we needed to use the restroom too! So we got some stuff to drink, then sat on one ride. The spinning ride that has soo much centrifugal force, there is no way you can fall out. I also took some weird creepy pictures.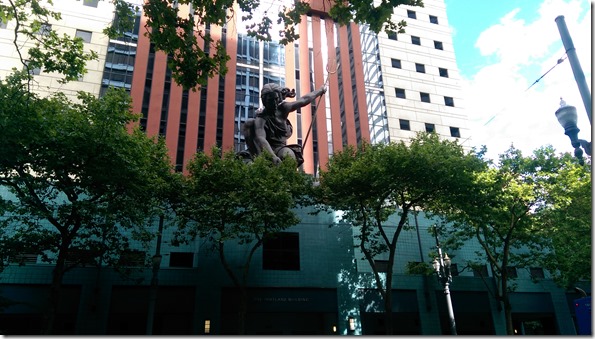 To finish off the ride, we biked all the way back to downtown portland to go see portlandia. none of us knew what it was, I thought it would be some kind of statue on the ground floor. Jamie was going "if you don't find this place correctly, I will get mad. Then I rode down and stopped where I thought it would be. We didn't see anything, until a lady told us to look up. There we see a huge statue. We run across the street and take a picture of it.
Then we go back and return our bikes. I lost the key to my bike lock, so I ended up buying a "new bike lock" for myself.