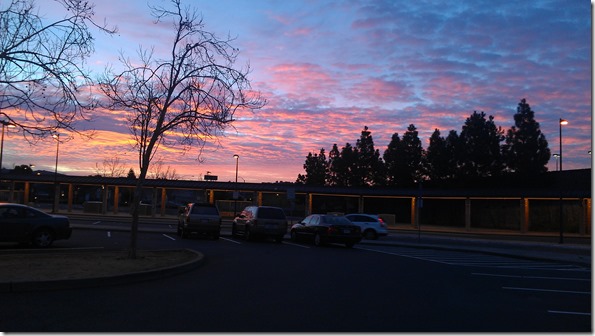 For the color run, I had to start off the day so early. I was up at around 6:30 am at CV Bart. I thought the cloud was foreshadowing my color run day.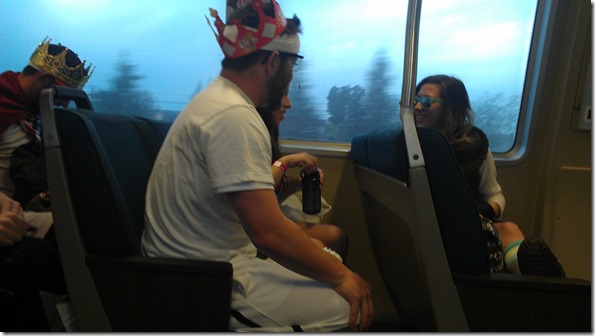 At the bart station we ran into a friend, she was doing the run with us. We called her our ninja.
All of us were knights. Speaking of knights and ninja's, during the run there were some people running like anime character ninjas (naruto), with they arms behind their back. They went "Ninjas are better than warriors"!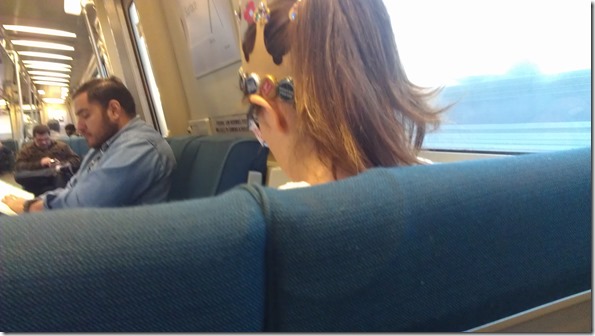 That was my guinness shield, made from the branches in my friends house.
So many people looked at us on that train.
Out at candlestick park, where they don't care if you mess that place up.
However, that place is so shady, I would not do a neon run there. Also, there is not much public transportation.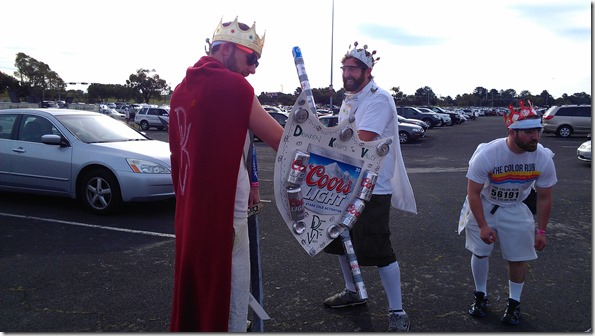 They had a beer wizard staff, and some swords. For some reason, the guy with the golden crown got most of the attention. We think it is because of that golden crown, and all of us had paper ones.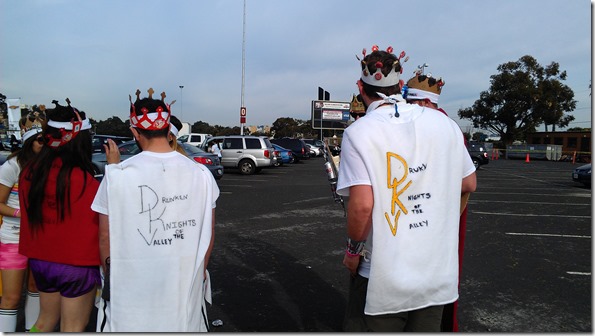 Just back shot of our capes.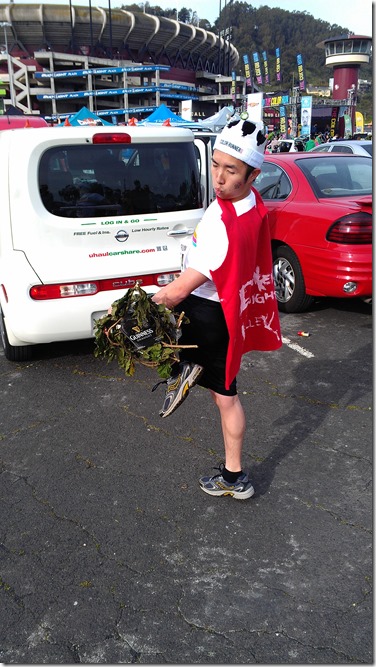 That is my heisman/ lincecum look, showing off my muscular calves.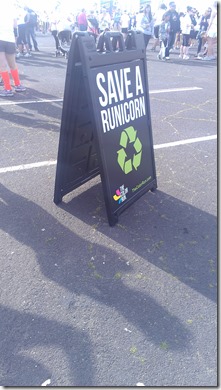 There was a racer in a unicorn mask.
What I looked like pre-color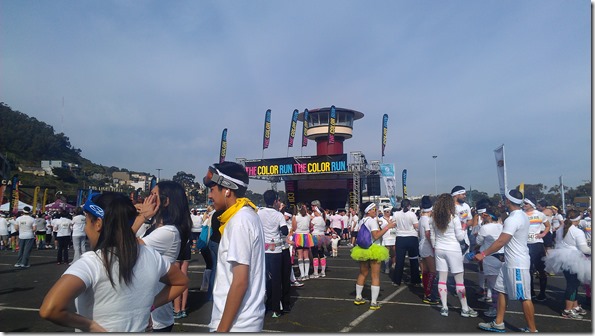 That is the front stage.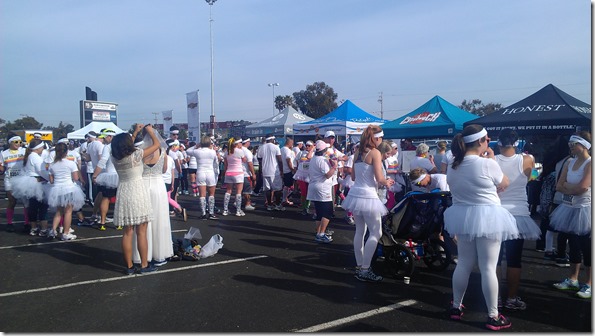 There were two bachelorette parties, and the lady on the left was wearing a wedding dress.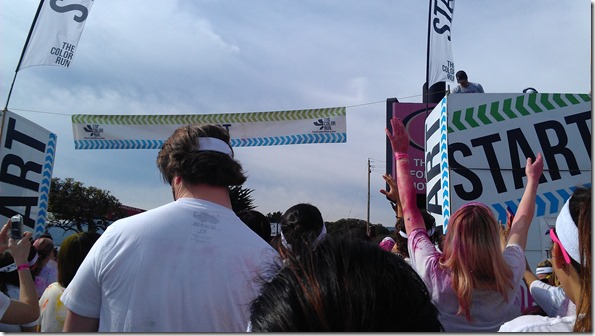 We were wave 4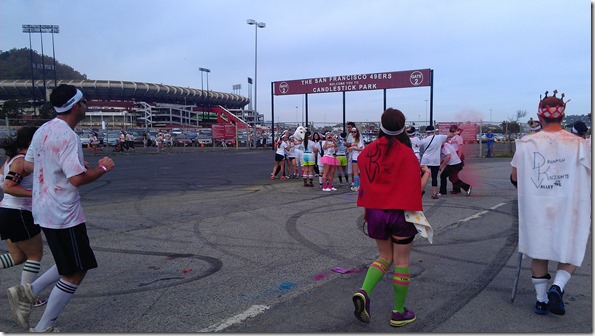 There is us walking and a unicorn picture.
I had so much of the maize chalk on me.
The stations were behind and in front of us.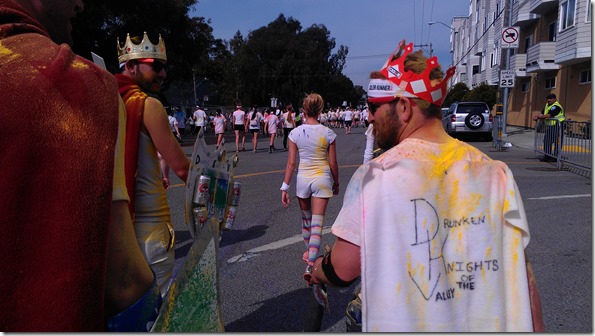 Walking took so long because our wizard was slow.
Oh yeah, we saw art mann, and he was interviewing us, and went into the orange and blue colors with us. He just cut across instead of walking all the way with us. 😉
Taking a break in the blue zone.
So I thought it would be cool if I blew into my powder bag, which would make all the colors go up in the air. Instead it went into my face.
Funny moment. One of the girls, Tina, opened up her bag and was going to throw pint paint on the king. So she throws it at him, and everyone turns to look at "the king", he has no color on his face. We turn look to the right, and see that my HS friend's girlfriend was the one that received all the colors onto her face and mouth.
The crown.
Then had a DJ, and there were people dancing and throwing up dust during the festival party.
To clean up, they were using air blowers and blowing the colors away.
We were so lucky to find a taxi cab

,we were charged an extra 20 dollars for our ride to downtown. Where we ended up at a bar to have a drink.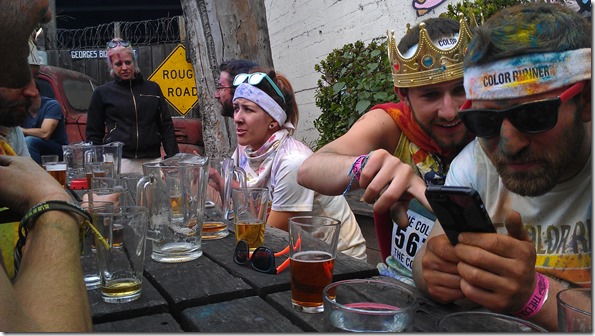 We sat on this table with other runners. It was Zeitgeist, the lady standing up in the back had the worse position of chalk on her face. I would always keep on thinking she was cut or something.
Then we ate at off the grid. That truck over there has a really good cucumber drink.
————————————————
To end the day, I was at a house warming party, and then a surprise birthday party. Learned a lot about some of my other friends.